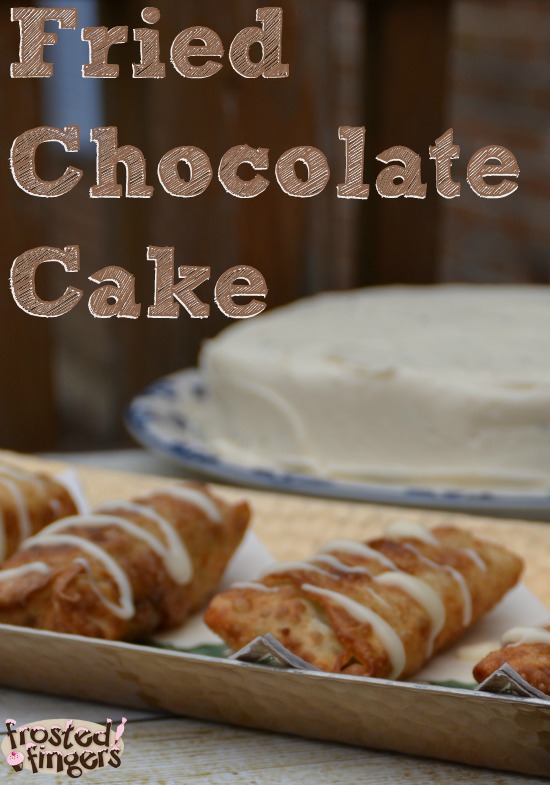 I was sent a kit from Nasoya and asked to create something that would be good to share at a holiday party. When I was first asked, I had no idea what I'd want to make. I've made taco cups with their products before and loved those. They also sent me an idea to make eclair cups and I think I may make those for Christmas. I wanted to try something that I've never done before, though, something I'd never even seen done before! Remember that chocolate cake I showed you earlier this week? I decided I was going to make fried chocolate cake egg rolls out of it!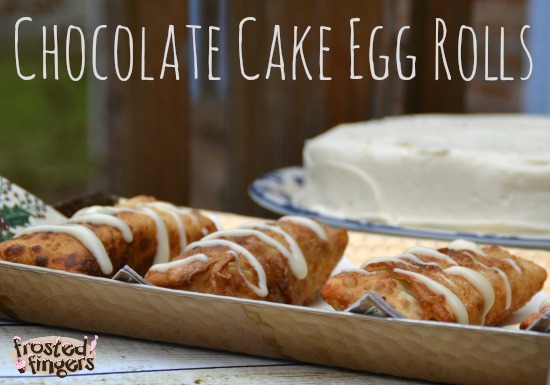 I think this may have been my best idea yet! Not only do the egg rolls have moist (sorry if you hate that word) chocolate cake in a crispy shell, but it also has cream cheese frosting inside that just pulls it all together! I even drizzled a little over the top. I just can't describe how good these chocolate cake egg rolls are.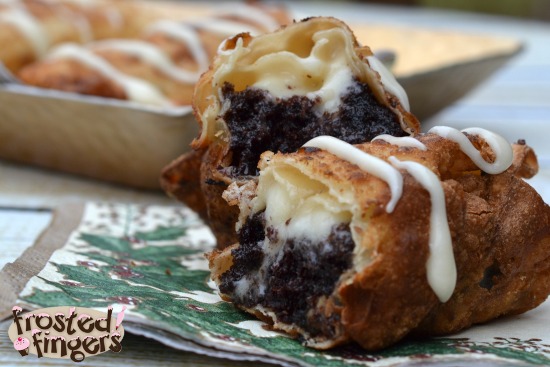 Look at that yummy frosting on the inside! Writing this post is making me hungry! I was good and only had one of these bad boys. My husband has himself convinced that I'm making these for Christmas. We will see how that goes. My kitchen always gets mighty crowded with a ton of food when I host. I don't know if I have room to get these done.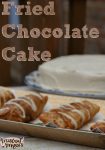 Fried Chocolate Cake Egg Rolls
Ingredients
Nasoya Egg Roll Wraps

Oil for frying
Frosting
8

ounces

unsalted butter

softened

8

ounces

cream cheese

softened

4

cups

powdered sugar

2

teaspoon

vanilla extract
Instructions
First make the frosting by beating together the butter and cream cheese with an electric mixer.

With the mixer on low speed, add the powdered sugar a cup at a time until smooth and creamy. Beat in the vanilla extract.

Put frosting in piping bag or plastic baggy with a corner cut.

Prepare cake according to box directions. Let cool to room temperature, then cut the cake in half, then cut the two halves into 1 inch slices to make little rectangles.

Heat 3 inches of oil to 350 degrees F.

Place a rectangle of cake in the center of the egg roll wrapper.

Squeeze a line of frosting next to the cake on the egg roll wrapper.

Dab your finger with a little water and run it along the edges of the egg roll wrapper.

Fold the bottom corner of the wrapper up and over the cake, then fold in the right and left sides. Roll the egg roll away from you to seal it up.

Repeat with the remaining cake rectangles.

Fry in the hot oil for 2-3 minutes or until golden brown.

Remove from oil to paper towels to drain.

Optional: drizzle with more frosting.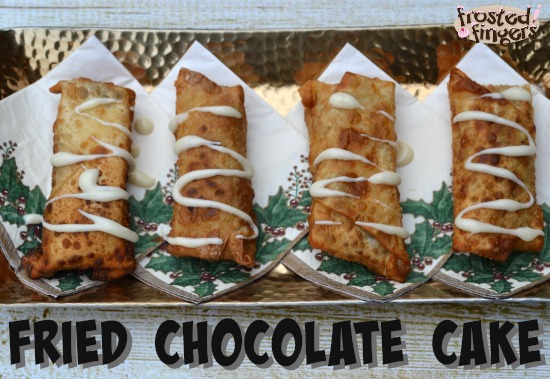 I'm not a big fan of fried fair food, but I can see this one taking off. I can say I'm a little proud of this recipe! 🙂 What would you make with some Nasoya egg roll or won ton wraps? I think I can have some fun coming up with new recipes using them!