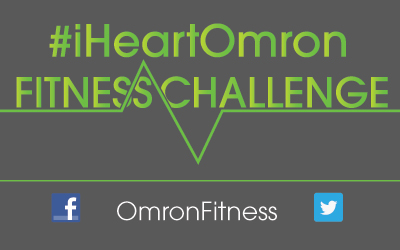 I didn't get a chance to update you last week on the challenge because I thought my site was being moved to new hosting and I couldn't post anything at the time. It fell through, but it does need to happen sometime soon. I have had a few good weeks for sure! Yesterday I woke up to an awesome surprise. I hit my 5% body weight loss! The chart below doesn't show my starting weight on the competition, but it was 215.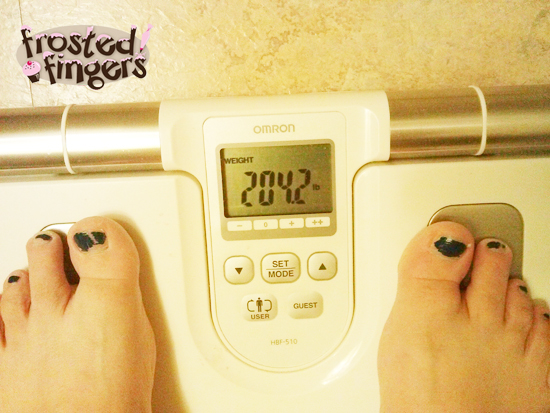 I really pushed myself this last week with making myself get on the treadmill. Three out of seven days I was over 10,000 steps and Tuesday I almost made it with 9843 steps. It's been great accountability to use the three Omron products that we got for this competition: Strapless Heart Rate Monitor, USB Pedometer, and Full Body Composition Scale.
Date
Weight
Chest
Waist
Hips
Biceps
Calves
Thighs
Clothing
1/6
210.4
45.5″
43″
51″
R:13.5″ L:14″
R:17.5″ L:17.5″
R:26″ L:26″
18
1/13
209.8
44″
43″
50″
R:14″ L:14″
R:17.5″ L:17.5″
R:26″ L:26″
18
1/20
210.4
44″
42.5″
50″
R:13.5″ L:13.5″
R:17.5″ L:17.5″
R:25.5″ L:26″
18/16
1/27
208.8
43″
40″
48.5″
R:14 L:13
R:17″ L:17″
R:24″ L:25″
16
2/3
207.8
43″
40″
48.5″
R: 13″ L: 13″
R:17″ L:17″
R:25″ L:25″
16
2/10
206.8
42.5″
40″
48″
R: 13″ L: 13″
R:17″ L:17″
R:25.5″ L:25.5″
16
2/17
204.2
42″
39″
48″
R: 13″ L: 13″
R:17″ L:17″
R:25.5″ L:25.5″
16
Total
10.8 lb
3.5″
4″
3″
R: 0″ L: 1″
R: .5″ L:.5″
R: .5″ L:.5″
1 size
I'm so happy with my outcome with this competition. I would have probably lost more if I hadn't gotten sick in the middle, but I had a healthy weight loss of 1-2 pounds per week and I'm very happy with that! A total of 10.8 pounds and 13.5″ lost!
Come to the twitter party this Wednesday to find out the winner of the competition! I can't wait to hear! Our final numbers will be revealed at the #IHeartOmron #Mamavation twitter party on Feb. 20, 2013 from 8-10pm EST!! Make sure you RSVP here!
If you'd like to visit my past posts from this competition:
Full Disclosure: This post is sponsored Omron Fitness as a collaboration with Bookieboo Blogging Network and Mamavation – a community dedicated to weight loss for women and obesity prevention for families. I was provided with product and compensation for my time and honest opinions.