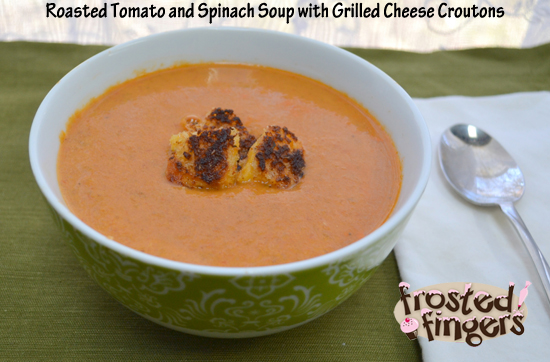 With Lent upon us, my family is looking for more meat-free options. I came across this Roasted Tomato soup from Cafe Chocolada and totally wanted to give it a try. I love how easy this recipe is. I changed hers up a little and threw some spinach in it as well to add some more nutrients. (I know the grilled cheese looks burnt in the picture. It wasn't, I swear!) I love the flavor of this soup and the grilled cheese really adds to it! If you're going Primal, you can omit the grilled cheese and my friend said if you are Paleo you can probably substitute coconut cream for the whipping cream.
Roasted Tomato and Spinach Soup Recipe
Ingredients
6

cups

3 pints cherry tomatoes

3

tablespoons

olive oil

1

teaspoon

salt

1/2

teaspoon

pepper

2

tablespoons

unsalted butter

2

garlic cloves

minced

1

cup

chopped onion

1

28-ounce can diced tomatoes

2

cups

fresh spinach

4

cups

chicken broth

1/2

teaspoon

thyme

1

cup

whipping cream
Instructions
Heat the oven to 400°. On a baking sheet, combine the cherry tomatoes, 2 tablespoons of the olive oil, and the salt and pepper. Toss the ingredients to coat evenly and spread them in a single layer. Roast the tomatoes until they are shriveled with brown spots, about 35 to 45 minutes.

In a large pot (I used a dutch oven), heat the butter and the remaining tablespoon of oil over medium heat. Add the garlic and onion and sauté until softened, about 6 minutes. Add the canned tomatoes with their juice, the broth, the thyme, spinach, and the roasted tomatoes, including any liquid on the baking sheet. Bring the mixture to a boil, then reduce the heat and simmer, partially covered, for 40 minutes.

Using a food processor or blender, puree the soup until it's smooth. (I used a stick blender so it didn't have to leave the pot.) Return it to the pot and stir in the cream. Without letting the soup boil, warm it over medium heat, stirring often, until steaming. Add salt and pepper, if necessary.
In order to make the grilled cheese:
1/4 cup unsalted butter, softened
1/4 teaspoon thyme
6 thin slices of bread
3 ounces Cheddar, thinly sliced
Mix the butter and thyme and spread on bread. Make sandwiches and heat in a pan until golden brown. You can then cut the sandwiches into 1″ cubes to put in your soup.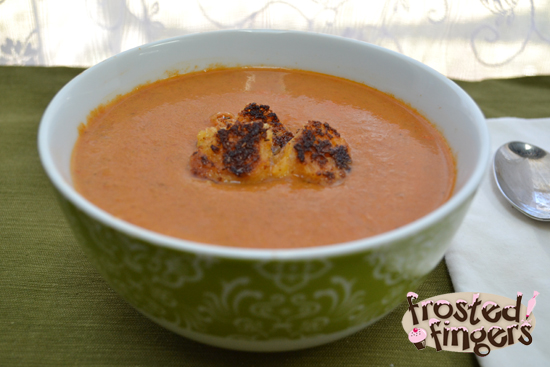 The soup is good with or without the grilled cheese. I've had it both ways!