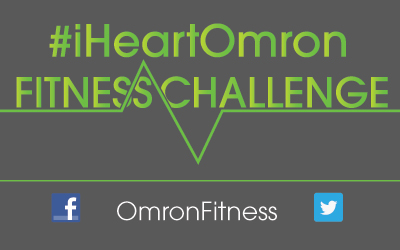 Something has happened the past two days. I've been feeling blah. I've been feeling like I can't do everything; like I can focus on only one thing in my life and that's it. I can either focus on weight loss or blogging or my family. My goal this week is to try to find a balance. To try to come up with a daily schedule that helps me get everything I need done plus gives me some me time. I love to read, but lately the only reading I get done is right before bed. The problem with that is that I fall asleep a few pages in. I also made this great menu plan for the month of January, and haven't been following it, because I've not been checking in with it the day before to make sure I have everything ready for the next day. That has to change! I went to the store and bought groceries for those meals, yet I don't make them. Time for a change.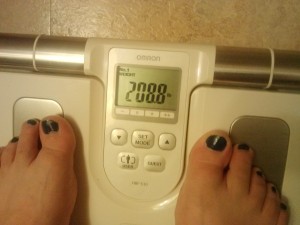 You see that! I finally showed a loss! I've now officially lost 6.2 since I applied for the Omron Fitness Challenge. You can see from my chart below that I've also lost a lot of inches! My right arm went up a 1/2″ and I'm wondering if it isn't a little swollen from when I fell on it while roller skating on Saturday. Yes, I'm injured. I'm going to continue to workout, but it may all be left-handed and cardio for a few days. I don't want to overdo it on my arm. At this moment I'm dreading going to do all the dishes I left in my kitchen yesterday because it hurts.
Date
Weight
Chest
Waist
Hips
Biceps
Calves
Thighs
Clothing Size
1/6
210.4
45.5″
43″
51″
R:13 1/2″ L:14″
R:17 1/2″ L:17 1/2″
R:26″ L:26″
18
1/13
209.8
44″
43″
50″
R:14″ L:14″
R:17 1/2″ L:17 1/2″
R:26″ L:26″
18
1/20
210.4
44″
42 1/5″
50″
R:13 1/2″ L:13 1/2″
R:17 1/2″ L:17 1/2″
R:25 1/2″ L:26″
18/16
1/27
208.8
43″
40″
48 1/2″
R:14 L:13
R:17″ L:17″
R:24″ L:25″
16
2/3
2/10
What are your goals for the coming week? I definitely want to see more loss, but most importantly I want to take my life back!
If you'd like to visit my past posts from this competition:
Full Disclosure: This post is sponsored Omron Fitness as a collaboration with Bookieboo Blogging Network and Mamavation – a community dedicated to weight loss for women and obesity prevention for families. I was provided with product and compensation for my time and honest opinions.