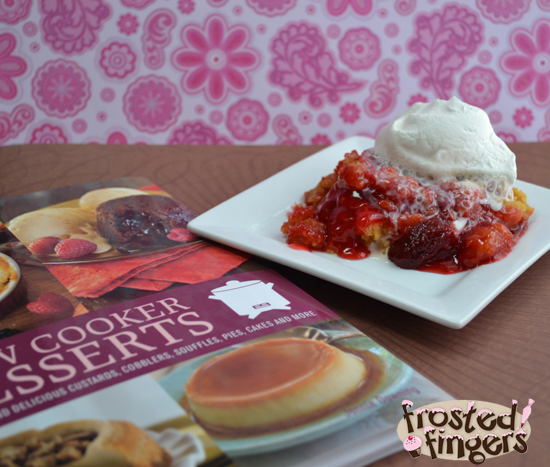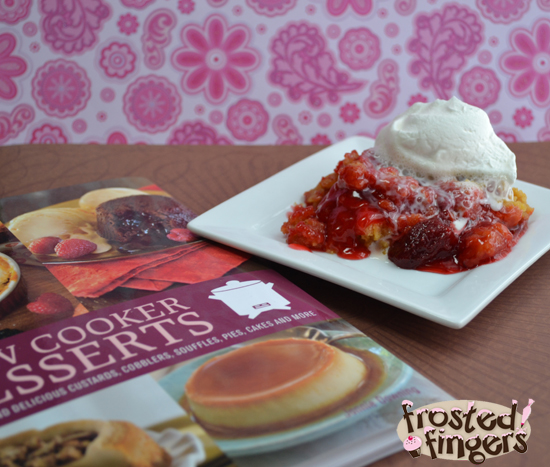 I was recently sent the book Slow Cooker Desserts to try out. I immediately leafed through the book and found quite a few recipes I wanted to try. I figured I'd try an easier recipe first since I had the ingredients on hand and didn't need to go shopping to try something. Some of the recipes on my to-do list is pound cake, orange cheesecake, luscious lemon cake, mini berry cobblers, and pineapple crisp, to name a few. All of the recipes seem relatively easy. I can't wait for my husband to come home from work today and try this simple Strawberry Yellow Cake that I made today. Little Man loves it! I thought it was pretty good, too.
The nice thing about this cake is it's one of the fastest recipes in the book. It only takes three main ingredients and it cooks in the slow cooker for three hours. It's so simple to throw this cake into the slow cooker before company comes over and then have it come out hot and fresh at dessert time.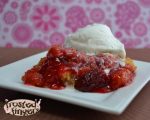 Slow Cooker Strawberry Cake Recipe
Ingredients
1

21-ounce can strawberry pie filling or 1 1/2 cups fresh strawberry pieces

1

box strawberry or yellow cake mix

1/2

cup

1 stick unsalted butter, melted

1/3

cup

chopped walnuts

optional (I didn't add them)

1

container of whipped topping such as Cool Whip
Instructions
Coat the inside of your slow cooker with cooking spray. Pour the pie filling or fresh strawberries into the slow cooker.

In a bowl, mix together the cake mix and the melted butter; it will make a crumbly mixture. Sprinkle over the strawberries in the slow cooker. Sprinkle the walnuts, if you are using them.

Cover and cook on low for 2 to 3 hours. Cool for about 10 minutes, then scoop into serving dishes and top with the Cool Whip.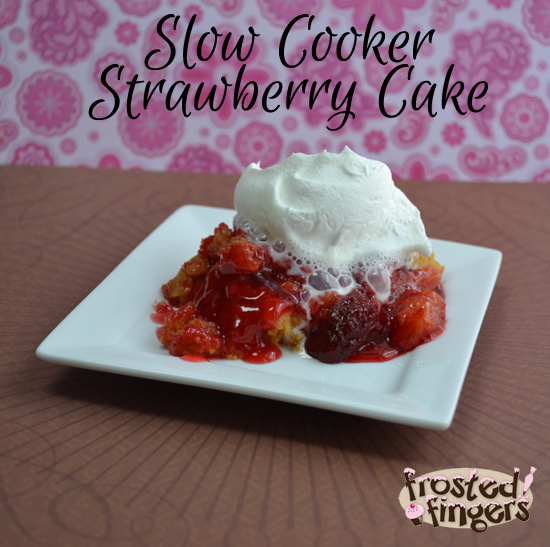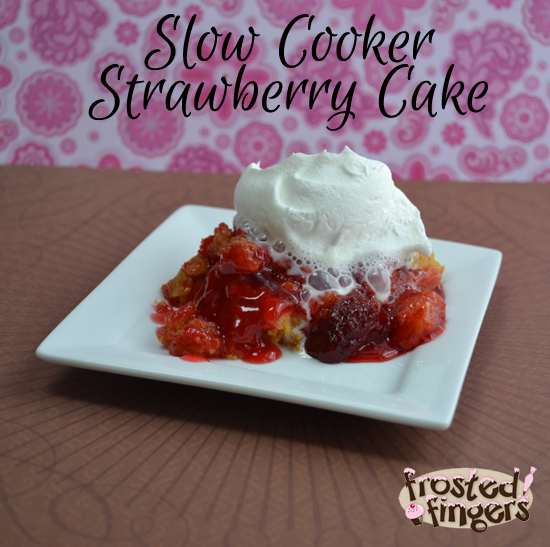 Note: I was given a copy of the cookbook Slow Cooker Desserts to review. All opinions are my own.