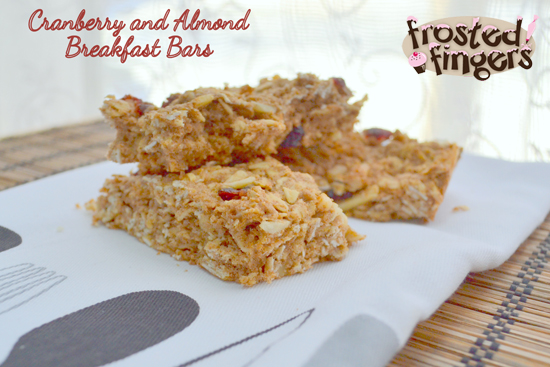 Last week I was sent the book: Clean Eating for Busy Families to review. This book says that most recipes take just 30 minutes or less. I still feel unorganized in the kitchen, so if I don't set everything out that I need, it always seems like it takes longer than that to make a recipe.
It's Quick: From easy sautés and casseroles, to slow cooker meals, to pan-less grilling, all the recipes you'll find inside list both mode and length of cooking time, so there's no time wasted trying to figure out a time plan or what works best for your schedule. Plus, most recipes can be prepared in thirty minutes or less!

It's Clean: The ever-growing "clean food" movement, which focuses on a healthy, whole foods-based approach to eating, lies at the foundation of this book, so you can be sure you're feeding your family the very best. From wholesome ingredient lists to nutritional analysis on every recipe, you can feel confident that every meal you prepare is both nutrient-rich and calorie-conscious.

It's Green: Featuring eco-friendly tips, along with information on how to go green while shopping and cooking, you'll find it a cinch to keep your family and the planet happy. You'll also find the peak season noted on every recipe, as well as substitutions for ingredients that are out of season, so you can adapt according to what works best for you.

And most importantly…it's delicious! From Orange Peel Chicken & Broccoli Stir-fry with Brown Rice to Baja Fish Tacos with Pico de Gallo and Summer Berry Slump with Vanilla Greek Yogurt, you'll enjoy night after night of delicious home cooking—without any of the hassle. Get started creating new and exciting dishes for your family today!
I'm sure everyone's definition of "clean eating" is different, but there are definitely items in some of these recipes that I don't consider clean. One recipe calls for condensed cream of chicken soup; she does tell you that organic is preferred, but it just seems like cream of anything soup wouldn't be clean. Another recipe, which I actually really want to try, calls for cornstarch and grapeseed or canola oil. Some people would say that cornstarch would most likely be GMO and not clean. Also, canola oil is a highly processed oil and some would also say that's not clean. Overall, though, these recipes do look very healthy and delicious. The recipe that I plan to try soon is Orange Peel Beef and Broccoli Stir-Fry with Brown Rice. I've been more into Asian inspired foods lately and that sounds delicious.
On Saturday morning I decided to try the Oatmeal and Cherry Breakfast Cookies with Almonds. I did make a few small changes, though. I didn't have dried cherries at home so I changed it to cranberries. I also wanted to make them into snack bars instead of cookies. I had to bake the bars a little longer than the cookies needed, but I think they turned out well. The kids complained about them, but then went on to eat them just fine an hour later. My thoughts were that they were a little dry and could maybe use a little more sweetness to them. Overall, it was an easy recipe and a great way to make about 2 weeks worth of snack bars for my kids. The recipe made 20 snack sized bars. I left 9 out, which is 3 snacks worth for the kids, and froze the rest.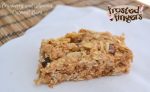 Oatmeal and Cranberry Breakfast Bars with Almonds
Ingredients
3

cups

dry old-fashioned or thick-cut oats

1

cup

white whole-wheat flour

or regular whole-wheat flour- which I used

2

teaspoons

ground cinnamon

1/2

teaspoon

baking soda

1

large egg

1/3

cup

expeller-pressed grapeseed or canola oil

I used coconut oil

1

cup

packed light brown sugar

1/4

cup

low-fat milk

1

teaspoon

almond extract

or vanilla

1/2

cup

dried tart cherries

or cranberries

1/2

cup

sliced almonds
Instructions
Preheat oven to 350 and line your cookie sheet or jelly roll pan with parchment paper.

Stir oats, flour, cinnamon, and baking soda in a medium bowl.

In a large bowl, beat egg and whisk in the oil, sugar, milk, and almond extract.

Add the dry ingredients to the wet ingredients and stir just until moistened, adding cherries (or cranberries) and almonds toward the end of mixing.

Press your ingredients into your cookie sheet in a uniform manner. Mine did not fully cover the bottom of the pan; it covered about 4/5 of it.)

Bake until golden around the edges and set in the middle. It took about 25 minutes for mine.

Cool completely and store in an airtight container for up to 1 week or freeze for up to 1 month.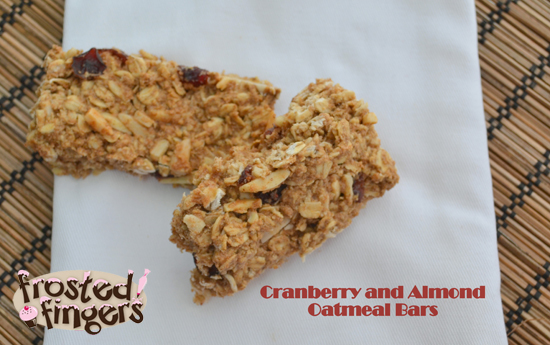 Note: I was given a copy of the cookbook Clean Eating for Busy Families to review. All opinions are my own.