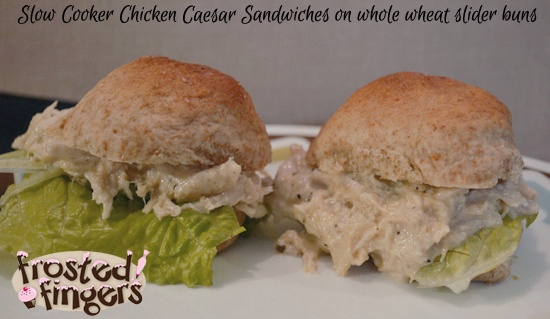 So the big game is this Sunday. I have a simple recipe that you can make that's delicious! The best part? It's homemade! Before I get there, I want to talk a little about how I got to this point. I haven't bought bread in probably 3 months or longer. It's not because I gave up bread, though, it's because I've been making it from scratch at home. Whenever my kids see me making bread they start to cheer. Monkey is always begging for the bread straight out of the oven. I love that the bread I make not only makes them happy, but it's made with ingredients that I can pronounce and that are healthy for them. Because of my love of home made bread, I applied to be an Fleischmann's Yeast Ambassador and I got it! Over the next 8 months I'll be sharing four different from-scratch recipes. I wanted to start off with a great recipe that's good for the Super Bowl. Fleischmann's provided the recipe for the Whole Wheat Slider Buns and I found the recipe for the slow cooker chicken Caesar sandwiches through my friend Alison on Pinterest.
Slow Cooker Chicken Caesar Sandwiches
Ingredients
2

Boneless

Skinless Chicken Breasts

2

cups

of Chicken broth

or water

3/4

cup

whole wheat flour

2

envelopes Fleischmann's® RapidRise Yeast

2

tablespoons

sugar

1/2

teaspoon

salt

1/2

cup

milk

1/4

cup

water

2

tablespoons

butter OR margarine

1 to 1-1/4

cups

all-purpose flour

2

cups

of your favorite Caesar dressing

original recipe called for 1 cup but I like it wet

1/2

cup

shredded Parmesan cheese

I used grated this time because I was out of shredded

2

cups

of shredded romaine lettuce
Instructions
Place chicken in a 3-4 quart slow cooker with 1-2 cups of chicken broth or water, cover and cook on low heat for 4-6 hours.

For the rolls: Combine whole wheat flour, undissolved yeast, sugar and salt in a large mixer bowl. Heat milk, water and butter until very warm (120° to 130°F). Add to flour mixture. Beat 2 minutes at medium speed of electric mixer, scraping bowl occasionally. Add 1/4 cup all-purpose flour; beat 2 minutes at high speed. Stir in enough remaining all-purpose flour to make soft dough. Knead on lightly floured surface until smooth and elastic, about 8 to 10 minutes. Cover; let rest 10 minutes.

Divide dough into 12 equal pieces; shape into balls. Place in greased 8 or 9-inch square pan. Cover; let rise in warm, draft-free place until doubled in size, about 30 minutes.

Bake in preheated 375°F oven for 15 to 20 minutes or until done. Remove from pan; cool on wire rack.

When the chicken is done cooking: Remove chicken from cooker using a slotted spoon and drain the broth or water from the slow cooker. Place chicken on a cutting board and pull chicken into shreds, discarding any fat.

Place chicken back in the cooker and pour dressing and Parmesan cheese over the top. Stir until mixed evenly. Cover and cook on high heat for 30 minutes or until mixture is hot.

Spoon 1/4 cup mixture onto each slider bun.

Top with extra shredded Parmesan cheese and lettuce to serve.
Just a quick note on the chicken. I've read on Pinterest that an easy way to shred your chicken is to throw it in the bowl of your electric mixer with the paddle attachment. If you turn it on, it's supposed to shred the chicken quickly and easily. I haven't tried it, but I saw good comments on it.
The rolls turned out a little dry for me. I'm not sure if it's because I did it all by hand instead of pulling out my mixer. When my son saw that we were eating these for dinner, though, he was super excited. He loves this meal. I think it's a great meal for a group of people, because it's hand held. You can put the sandwiches together ahead of time or keep the meat warm in the slow cooker and let your guests assemble themselves.
In honor of the Super Bowl, Fleischmann's Yeast is having a contest:
The Big Game promotion for Fleischmann's Pizza Crust yeast will take place from 1/21 – 2/3 (the two weeks leading up to the Super Bowl). The promotion asks fans to submit their favorite pizza topping for the chance to win free product. If fans also submit their favorite "Big Game" pizza recipe, they will be entered to win a grand prize including a pizza stone, pizza cutter, and other great prizes.
What are your go to recipes for the big game? Last year we went to a party and tried buffalo chicken cupcakes. I actually liked them and would like to make them for a party but anyone that ever visits my house wouldn't eat them.
Note: I participated in a campaign on behalf of Mom Central Consulting for ACH. I received a promotional item as a thank-you for participating.