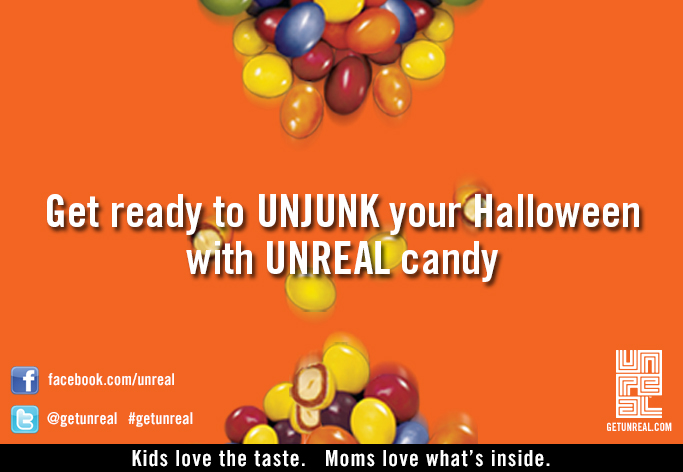 Last Friday I had a party with a few of my close friends to try Unreal Candy. Have you heard of Unreal candy yet? Here's a little about it:
A few years ago, Michael and his 13 year old son Nicky got into an argument over Halloween candy.  Nicky came home with his bag of loot, went to bed, and woke up the next morning to find that his dad had confiscated most of it.  It played out the way these fights normally do, with the candy gone and Nicky going to his room.

Later, Nicky did some research online (to prove to his dad that candy isn't so bad).  He discovered that his dad was right (for once).

It's not that Nicky thought candy was healthy.  It's that he didn't know how bad it really was. What Nicky learned was that the worst parts of candy (like hydrogenated oils, corn syrup, artificial colors, flavors, and preservatives) aren't there to make it taste good.  They're there to make it cheaper to produce.

Nicky had a hunch that without the junk, candy could taste better. With the help of his older brother Kris, and his dad, they set out to prove it."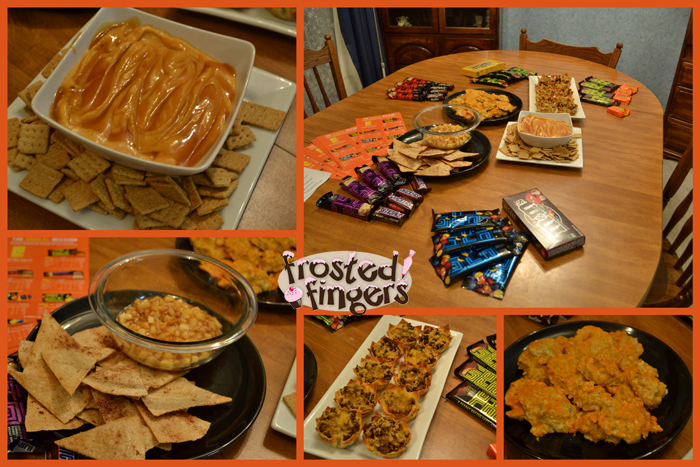 First my friends and I enjoyed a little bit of appetizers before we hit the candy tasting. I made taco cups, buffalo balls, apple pie dip and pumpkin pie dip. Not a single thing was bad! I'm so glad I took the time to make all the appetizers, because I was running late and one of my friends told me to just serve chips and salsa. (That so wouldn't have filled me up or tasted as good.) I hope to share the recipes for them all soon. Now on to the candy!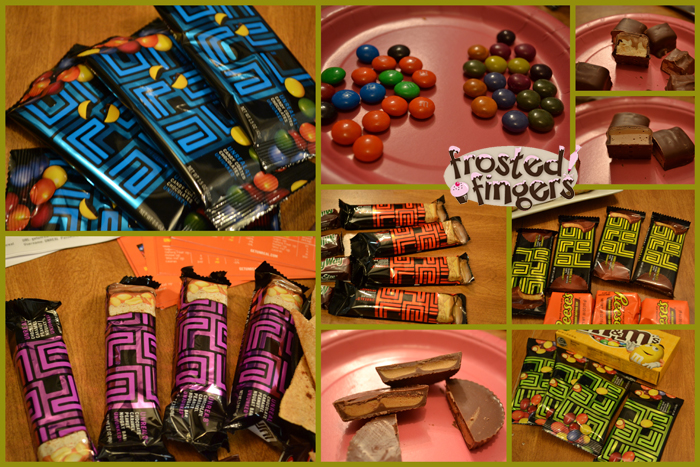 Corn syrup?  Out.  Partially hydrogenated oils?  Out.  GMOs?  Out.  Artificial colors, flavors, and preservatives?  Out. Reduced sugar by over 40% per serving on average?  Check. They also decided key ingredients needed to be responsibly sourced, supporting farming communities and preventing destruction of the rain forests. All ingredients needed to be non GMO.  Dairy needed to come from pasture raised cows with no antibiotics or added hormones.  Why?  Because it's the right thing to do for people and the planet. They had to figure out how to keep it fresh on shelves without artificial preservatives.  To get the taste just right, they literally tested hundreds of recipes to generate just five different candies. Along the way they had to work out how to produce the candy at a cost that would allow them to sell it at the same price as the old candy.  This was critical.  It's one thing to sell an expensive bar at a fancy health food store.  It's another to give everyone a new option that costs the same at the checkout of your grocer or convenience store.
I think they did a great job overall. The peanut butter cups don't taste anything like Reese's, but they're good in their own right. I think my favorite is the Snicker's type bar with the caramel and peanuts. You have to keep in mind that the chocolate in these candies is slightly darker tasting than most candies. I don't like dark chocolate and I don't think it tasted like dark chocolate to me. It's just a stronger flavor. They need to come up with names for the candies. They're currently using numbers. I'm going to give you my suggested names next to them:
UN54: Chocolate Candy Shell Peanuts (Peanut M&N's for Michael and Nicky)
UN41: Chocolate Candy Shell (M&Ns)
UN5: Chocolate Caramel Nougat (Nicky Way)
UN8: Chocolate Caramel Peanuts Nougat (Slickers)
UN77: Peanut Butter Cups (Kris's Peanut Butter Cups)
I love what they've done with these candies and I will be buying these for my kids for treats from now on! Be sure to check out Unreal Candies on their website, Facebook, and Twitter with #UnJunked
 Note: I wrote this review while participating in a campaign by Global Influence on behalf of Unreal Candy and received a gift card to facilitate my post.