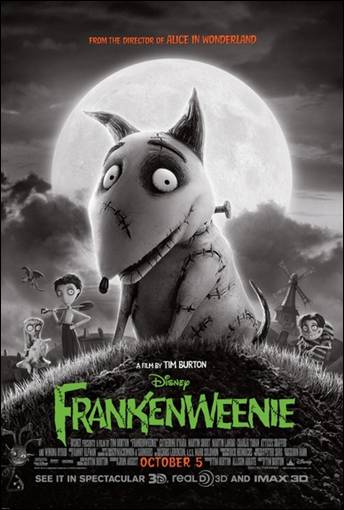 On Monday, my son and I were invited to an advanced screening of Frankenweenie. I didn't really know what to expect besides a dog dies and his boy brings him back to life Frankenstein style. I wasn't even sure if the movie was in color or black and white. I'd only seen black and white previews, but I didn't know the whole movie would actually be in black in white. It's a huge adjustment to me, because I am not a fan of black and white. The movie was also in 3D for the version we saw. When you wear glasses, 3D is not very exciting.
Getting past those two things, the movie was pretty cute. It's rated PG and I definitely wouldn't allow my younger two to watch it. I'm not even sure that I liked my 7 year old seeing the movie, but I'm pretty protective when it comes to what he watches. I wasn't sure how he'd act when the dog died, but he seemed to handle it ok. There were some scary scenes towards the end where Sea Monkeys become large land creatures that act a lot like Gremlins. They have pretty scary features. Buddy says he doesn't have nightmares anymore, but I was afraid he would after that movie. There are a ton of scenes to laugh at. The theater was full of very responsive people that laughed a LOT. I didn't get some of the stuff they were laughing at.
Overall the movie is good, but I personally wouldn't recommend it for anyone under 7. Here's Buddy's quick review after the movie:
Asking him to do that little review was like pulling teeth. 🙂 I'm a mean mom, though, that wants him to get comfortable in front of a camera and in front of a crowd. Here's the trailer for Frankenweenie:
From creative genius Tim Burton ("Alice in Wonderland," The Nightmare Before Christmas") comes "Frankenweenie," a heartwarming tale about a boy and his dog. After unexpectedly losing his beloved dog Sparky, young Victor harnesses the power of science to bring his best friend back to life—with just a few minor adjustments. He tries to hide his home-sewn creation, but when Sparky gets out, Victor's fellow students, teachers and the entire town all learn that getting a new "leash on life" can be monstrous.

A stop-motion animated film, "Frankenweenie" was filmed in black and white and rendered in 3D, which elevates the classic style to a whole new experience.

In Tim Burton's "Frankenweenie" young Victor conducts a science experiment to bring his beloved dog Sparky back to life, only to face unintended, sometimes monstrous, consequences.
Here's a quick Frankenweenie inspired recipe:
Note: I was given passes to see an advanced screening of Frankenweenie. All opinions are my own.