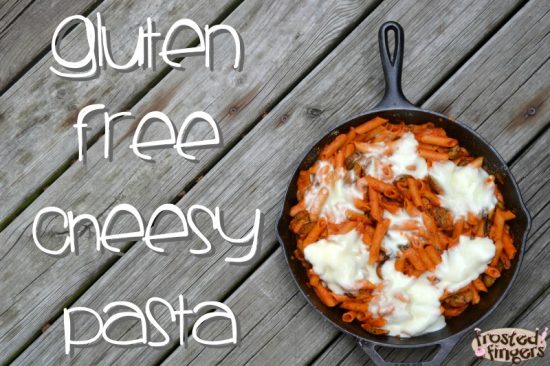 My diet is going through a mandatory change right now due to my baby having horrible eczema. One of the things I first tackled was going gluten free. Unfortunately, the next hurdle will be going dairy free. That is going to be very, very hard for me, because one of my favorite foods is cheese! So before I go dairy free I wanted to enjoy this Cheesy Pasta that I've adapted from Kim at TheySmell one last time with some Fresh Mozzarella Cheese.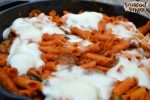 Gluten Free Cheesy Pasta with Chicken Sausage
Ingredients
3

tbsp

olive oil

1

small onion diced

1

tsp

minced garlic

4

links Feta and Spinach Chicken Sausage

one 12 oz package

1-3/4

cups

chicken broth

1.5

cups

heavy cream

12

oz

uncooked fluten free ziti pasta

1

6 oz can tomato paste

2

cups

raw spinach

½

cup

shredded Parmesan cheese

½

log Fresh Mozzarella Cheese sliced thin
Instructions
In a large skillet, heat olive oil over medium heat.

Add onions, garlic and sausage and saute until lightly brown.

Stir in tomato paste, heavy cream and chicken broth and stir until smooth.

Add in spinach and pasta and bring to a boil.

Cover and simmer until pasta is cooked about 18-20 minutes.

Stir in Parmesan cheese then remove from heat.

Top with mozzarella cheese.

Place the pan under a low broiler for 5 minutes or so to brown and melt the cheese.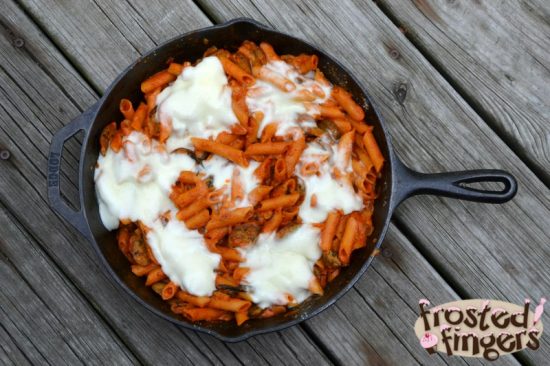 I have made this for my family 3 times now! The first time there were no leftovers at all and my husband was complaining that he didn't get seconds. The second time half my family wasn't home so they didn't get to eat it. The third time it was for a leader meeting for Cub Scouts. Each time this meal has been a huge hit. It's the only thing besides pizza that my kids will search out in the fridge and eat as leftovers for multiple meals (if there are some!) The addition of Fresh Mozzarella from Stella Cheeses just made it so much better!
If you want to try this recipe, you can get a $1 off Coupon right now (it expires 8/20/16) for Stella Fresh Mozzarella Cheese. For more recipe inspiration you can visit the Stella Page website, Facebook, Instagram, and Pinterest.