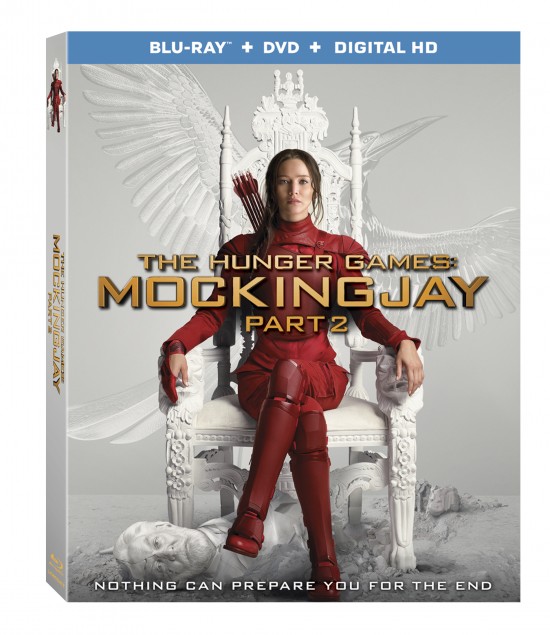 Last month The Hunger Games: Mockingjay – Part 2 was released on Digital HD and on Blu-ray Combo Pack/DVD. I really enjoyed reading the Hunger Games series and my husband and I have been following along on the movies as well. It's been so long since I read the books that there were a few surprises for me in Mockingjay Part 2. It made me want to go back and read the books all over again.
Based on the third novel in Suzanne Collins' trilogy, the must-own limited edition Blu-ray release is packed with over five hours of special features, including the "Pawns No More: Making The Hunger Games: Mockingjay – Part 2" 8-part documentary – an in-depth look at the making of the film from production design, costumes, hair, make-up, stunts, special effects and post production. The documentary also includes a touching piece – from the last day of shooting – in which the cast reflects on their experience shooting the four films. Also included is a detailed look at Cinna's sketchbook and a walk through the on-set photography along with audio commentary by director Francis Lawrence and producer Nina Jacobson. The Blu-ray is encoded in Dolby TrueHD and features a Dolby Atmos® soundtrack, which delivers captivating sound that places and moves audio anywhere in the room, including overhead, to bring entertainment alive all around the audience.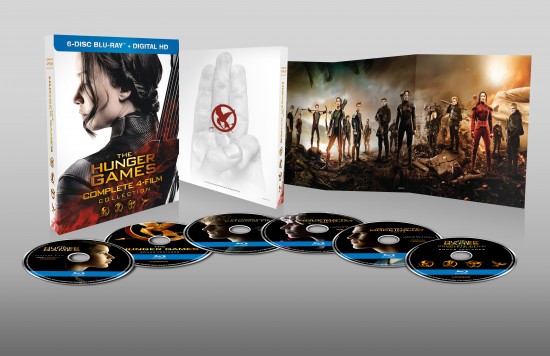 THE HUNGER GAMES: MOCKINGJAY – PART 2 BLU-RAY / DVD / DIGITAL HD SPECIAL FEATURES*
Audio Commentary with Director Francis Lawrence and Producer Nina Jacobson
"Pawns No More: Making The Hunger Games: Mockingjay – Part 2" 8-Part Documentary**
Walking Through Fire (Concluding the Saga)
Real or Not Real (Visual Design)
High-Value Targets (The Acting Ensemble)
From Head to Toe (Costume, Make-up & Hair)
Navigating the Minefield (Production in Atlanta, Paris & Berlin)
Collateral Damage (Stunts, Special Effects & Weapons)
Tightening the Noose (The Post-Production Process)
A Different World (Reflections)
The Hunger Games: A Photographic Journey
Cinna's Sketchbook: Secrets of the Mockingjay Armor
Panem on Display: The Hunger Games: The Exhibition
Jet to the Set**
*Subject to Change
**Exclusive to Blu-ray/ Digital HD
It really surprised me how they were able to get Philip Seymour Hoffman throughout the movie when he had already died when the movie came out. They did a great job with it. I'm sad to see The Hunger Games movies coming to an end. I need to pick up Part one of The Mockingjay so that my collection will be complete and I can watch it anytime.
Note: I was given a copy of The Mockingjay Part 2 in exchange for this post. All opinions are my own.