This holiday season Betty Crocker is challenging you to spread some holiday cheer by baking some cookies and leaving them on a doorstep of a friend. It's really something that could catch on. I know when I posted on Facebook earlier I had a friend jump in and say it's a great idea and that she's going to do it as well.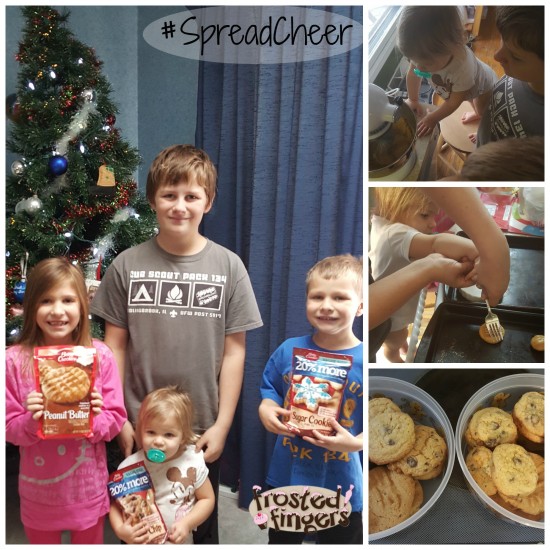 The kids and I went to Walmart and picked out three types of Betty Crocker cookies to bake and bring to friends. They had such fun baking the cookies and being the taste testers. Little Quinny even helped out making the cookies. She loved to watch the mixer make the cookies and she got to help criss-cross the peanut butter cookies with the help of her siblings. We made peanut butter, sugar, and chocolate chip cookies. We didn't do any fancy recipes or shapes with them because not only am I 15 days away from having a baby, but our dog of 15 years died yesterday. I have to say that this day has totally helped me, though. I really enjoyed secretly dropping off cookies to friends' houses. I think I'm going to pick up some more cookie tins and do this for a few more friends because it just felt good!!
A few hours after getting home I got a text from one friend saying that she was having a blah day at work and it was such an awesome surprise to come home to and that it made her day brighter. Another friend texted and said "I think someone tried to leave me cookies, but the squirrel ate them!" The cookies were in a plastic tin and tied closed! I would have never expected a squirrel to steal my cookies!!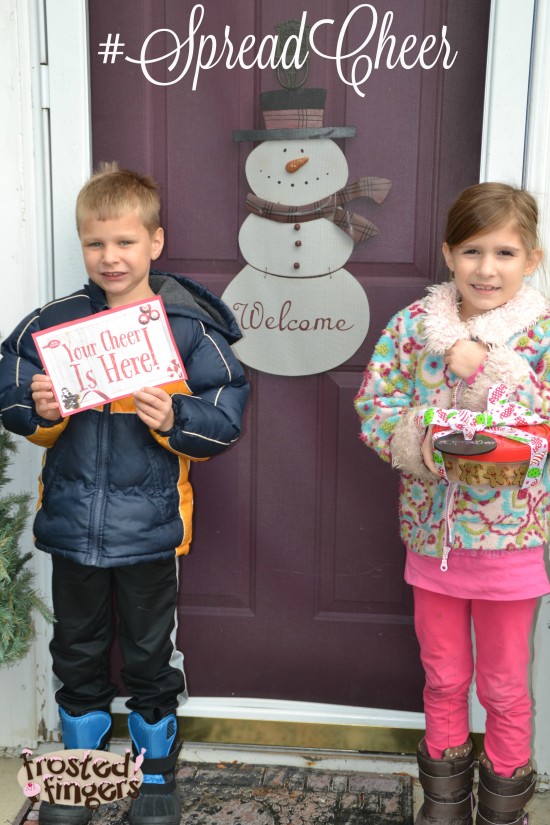 Join in and #SpreadCheer in your neighborhood!
This is how you can participate:
Print a coupon and head to your local Walmart or grocery story and pickup your favorite cookie mix.
Bake your cookies (you can find ideas at Betty Crocker).
#SpreadCheer by delivering cookies to someone special.
Share your #SpreadCheer moment on social media and encourage your receiver to keep the movement going.
In order for you to spread some holiday cheer I'm giving away $20 in Paypal Cash. You can use it to get some cookie supplies or a Christmas present for someone you love.
$20 Paypal Cash #SpreadCheer Giveaway

Giveaway is open to the USA, must be 18 or older to win, and ends on December 16 at 11:59:59 PM Central. Winner will be selected at random from all eligible entries and will be contacted by email. Winner will have 24 hrs to respond. Winner may only win one prize pack per year, if you win on another site, a new winner will be drawn. Please add paula@frostedfingers.com to your trusted email filter. If original winner does not claim their prize within 24 hrs, it is forfeit and a new winner will be selected promptly. No purchase necessary to enter or win. Odds of winning are not increased by a purchase.