Summer time is the season when cocktails rule. Their refreshing and cool combinations can take a bite out of our overheated selves, and their bright colors evoke the sunny skies. We all love a good daiquiri or margarita, two classics that blend well with fruit flavors and can be served blended or on the rocks. But this summer, how about thinking a little broader? Let's take a look at some combinations that might be new to you.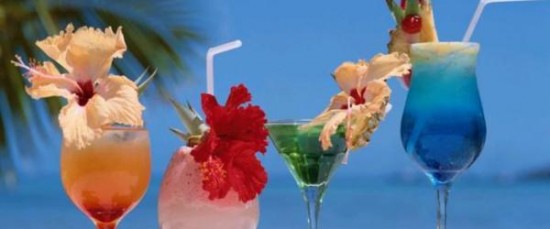 Veggie-tails
And although you may be used to seeing fruit as part of summer cocktail recipes, it's less often you might see a vegetable. Here's a concoction from Martha Stewart you should try during your next dinner party.
Lillet-Basic Cocktail
1 cup ice, plus more for serving
1/2 cup Lillet Blanc
1 ounce (2 tablespoons) gin
2 tablespoons fresh orange juice
1/4 cup loosely packed fresh basil leaves, plus sprigs for garnish
Splash of tonic water
cucumber spear, for garnish
1 cinnamon stick, for garnish
Put ice, Lillet, gin, orange juice, and basil in a cocktail shaker; shake well. Fill a glass with ice; strain mixture into glass. Add tonic water. Garnish with cucumber spear, cinnamon stick, and basil sprigs.
Vodka Va Va Voom
Long a foil for lemonade drinks during the hottest part of the year, vodka has a versatility that makes it ideal for just about any combination. If you are looking for a cocktail with a great taste and a dazzling color, this next one, from Buzzfeed, might get a great option for that brunch you've been planning
Purple rain
1 ½ ounces vodka
1 ounce blue curacao
1 ounce cranberry juice
1 ounce pineapple juice
1 ounce grenadine
Mix and pour over ice and squeeze in fresh lime juice.
Tiki Time
The group of cocktails that are blended, fruity, and boozy with rum are called "tiki" drinks, and there are dozens of variations. They usually are colorful and layered, and the finished product just screams for an umbrella garnish. Here's a great one to try from About Food.
Rum Runner
1 1/2 ounces gold rum
1/2 ounce blackberry brandy
1/2 ounce crème de banane
4 ounces orange juice
Dash of Falernum or grenadine
Pour ingredients into blender with approximately 3/4 cup of ice and blend until smooth.
Any evening spent outdoors in the summertime is the perfect occasion to try out a new recipe for a refreshing cocktail. If you are ready to dip your toes in the pool of potential candidates, these three concoctions should give you a great place to start.