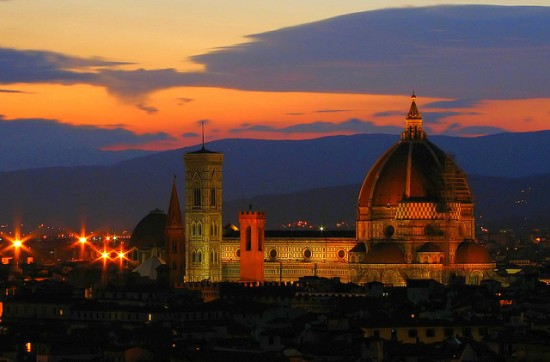 Florence is thought of by many as Italy's most beautiful city and just one glimpse of the skyline as dusk falls will help you to understand why. Around 10 million people per year come to marvel at the historic buildings, enjoy the art galleries and soak up the atmosphere in Florence's cafes and restaurants.
Florence may be small but it's a destination that requires multiple visits to take in everything it has to offer. You can find low cost flights from the vast majority of holiday companies.
Step Back in Time
If you're taking a city break, Florence has some must see sight-seeing options. The Florence Cathedral, or the Cattedrale di Santa Maria del Fiore, is undoubtedly the city's most famous building, dating back six hundred years and featuring the world's biggest masonry dome. The medieval Ponte Vecchio bridge, which spans the Arno River and dates back to 1345, is another major attraction. The impressive L-shaped town square, the Piazza della Signoria, is another popular haunt and has been the city's political centre since the 14th century; the many marble statues in the square are worth a look.
City of Art
The Galleria degli Uffizi is one of the world's most famous art galleries and also one of the oldest. Completed in 1581, this gallery is home to Botticelli's Primavera and the Birth of Venus, as well as artworks by Michelangelo and Leonardo da Vinci; you will need to book as Uffizi does get incredibly busy. Other Michelangelo artworks are on display at the Bargello Museum including the David –completed in 1504. To view some frescoes by Masolino and Masaccio head to the beautiful Brancacci Chapel, often called the early Renaissance's 'Sistine Chapel'.
Dining Out
Of course Florence isn't all about the art and history, and in this city the cuisine and wine are just as important as the attractions. Head down to the bustling Mercato Centrale, a food market selling cheeses and cured meats; make like a local and dine at Da Nerbone for traditional Florentine snacks – the queues are a sign of quality.
Florence is a city where taking your time and strolling by foot will reward you with many sightseeing opportunities. You should be able to view all of the major historic attractions on a weekend break but you'll probably want to revisit as soon as possible, simply to relive this city's incredible atmosphere.
Image by runner310 used under Creative Commons license