Zaycon Fresh provided me with complimentary products. The opinions I have expressed are my own. #ad
If you are like my family, you go through a lot of meat. We like meat in our family: chicken, beef, sausage, bacon… yum! I have found that Zaycon Fresh is the way to go for buying in bulk for our family. I love how easy it is to order and pick up from Zaycon Fresh.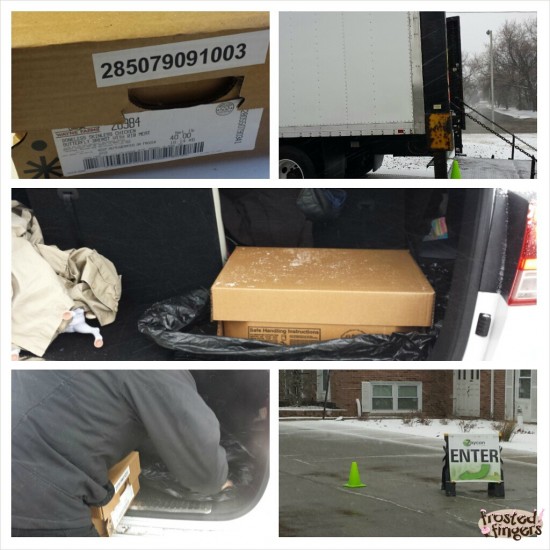 You go to Zaycon Fresh, enter your location, and pick what you want to buy. You will be told what time and location to go pick up your food. It is so simple to pick up! As you can see from the picture above, you enter by the sign and get in line, although there was no line when I went to pick up. The very nice Zaycon Fresh person will then load what you bought in the back of your car for you. I had no leaking issues, but they put that thick black bag down just to be safe. I was out of there in less than 5 minutes.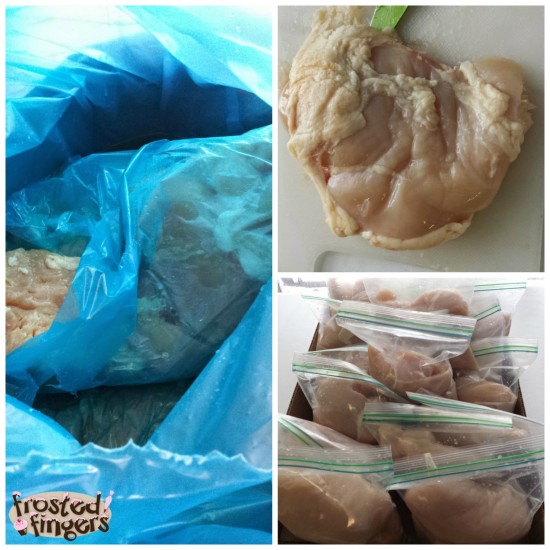 There is a little bit of processing needed before freezing your chicken, but I don't mind. 40 pounds of chicken feeds my family for a LONG time. I usually package 2 breasts per package and that is more than enough chicken to feed my family of 6.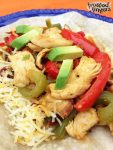 Chicken Fajitas Recipe made with Zaycon Fresh Chicken
Ingredients
2

Large Zaycon Fresh Chicken Breasts

6

Gluten-Free Soft Taco Size Tortillas

1

Red Pepper

chopped

1

Green Pepper

chopped

¼

Red Onion

diced

3

Stalks Green Onion

chopped

4

Garlic Cloves

chopped

¼

Head Lettuce

chopped

1

Avocado

sliced

½

cup

Greek Yogurt

4

tbsp.

Fresh Lemon Juice

2

tbsp.

Organic Olive Oil
Instructions
Boil 2 inches water in large pan. Add 2 large Zaycon Fresh chicken breasts and 2 tbsp. fresh lemon juice. Cook on high until water is halfway evaporated. Turn heat on medium to low. Brown and remove. Let cool. (Please note: poaching 2 large breasts of chicken will take approximately 20 minutes.) Slice chicken into strips. Set aside.

Heat large pan on medium to high heat. Add 2 tbsp. olive oil. Add chopped red and green peppers, chopped garlic, and diced red onion. Sauté for 10 minutes, stirring occasionally until onions are translucent.

Add chicken, chopped green onion, and 2 tbsp. fresh lemon juice. Sauté for 8 minutes, stirring occasionally until chicken picks up the flavors of the mixture. Optional: add salt and pepper to taste. Set aside.

Peel, pit, and slice avocado into long strips. Spritz with lemon juice to keep fresh.

Plate soft tortilla. Add chicken and pepper mixture. Top the dish off with a handful of chopped lettuce, sliced avocado, and Mexican blend shredded cheese. Optional: serve with a side of Greek yogurt dip. Enjoy your chicken fajita fiesta!
I haven't had a chance to try anything but the Zaycon Fresh Chicken yet, but I've heard great things about their bacon. I definitely want to try that and the ground beef. Have you ever tried any of the Zaycon Fresh products? I'd love to hear what you think.