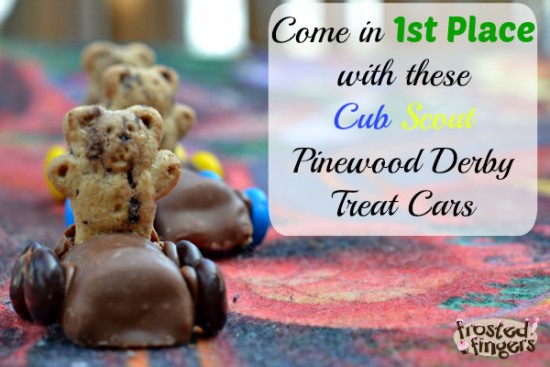 Pinewood Derby is just around the corner for our pack. I can't believe it's already halfway through January. My boy is a Webelos 1 so his Cub Scout career is quickly coming to a close. Luckily I won't be done with Cub Scouts for a while since Little Man starts his career in June. One of the ways our pack raises funds is to sell hot dogs and snacks during the derby. They ask for the families to make treats that can be sold at the concession stand and I'm going to make these Pinewood Derby Treats. I tested them out at our Pack Lock-in on Saturday and they were a huge hit!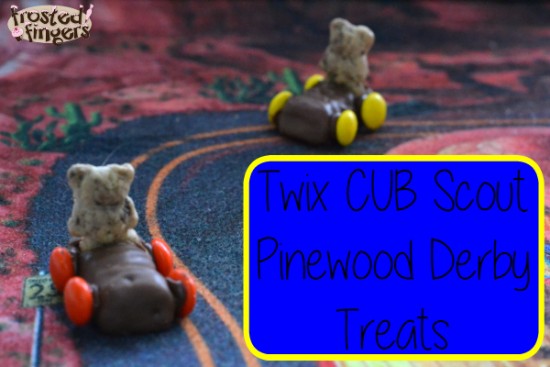 Believe it or not, I made 100 of these little guys in about an hour. They're pretty easy to make. I wouldn't have the boys make them, though, because I had to use a sharp knife to cut a hole in the Twix bar to fit the Teddy Graham. I tried just shoving the bear into the candy bar, but the bear broke.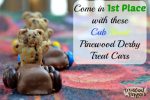 Cub Scout Pinewood Derby Treats
Cute little Cub Scout Pinewood Derby Treats made with Twix Bars, Teddy Grahams, and M&Ms.
Ingredients
Mini Twix Bars

Teddy Grahams

M&Ms

1/2

cup

Chocolate Chips
Instructions
Melt your chocolate chips in the microwave. I just melt them directly in a Wilton decorating bag and then snip the tip.

Cut a slit towards one end of your Twix Bar.

Place Teddy Graham in the slit. The teddy bears with the legs together work the best for this.

Attach M&Ms to the side of the Twix car with the melted chocolate chips.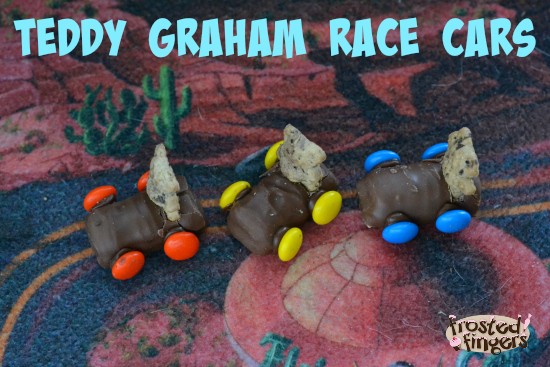 Your Cub Scouts will love these little cars! You could also use Milky Way bars, but I couldn't find any at my store that were the right size. I hope you enjoy these little treats and your son enjoys his Pinewood Derby!