Disclosure: This post is sponsored by Haribo and helps to support the National Breast Cancer Foundation. I was compensated for this post. Find out how you can help raise awareness at the bottom of this post!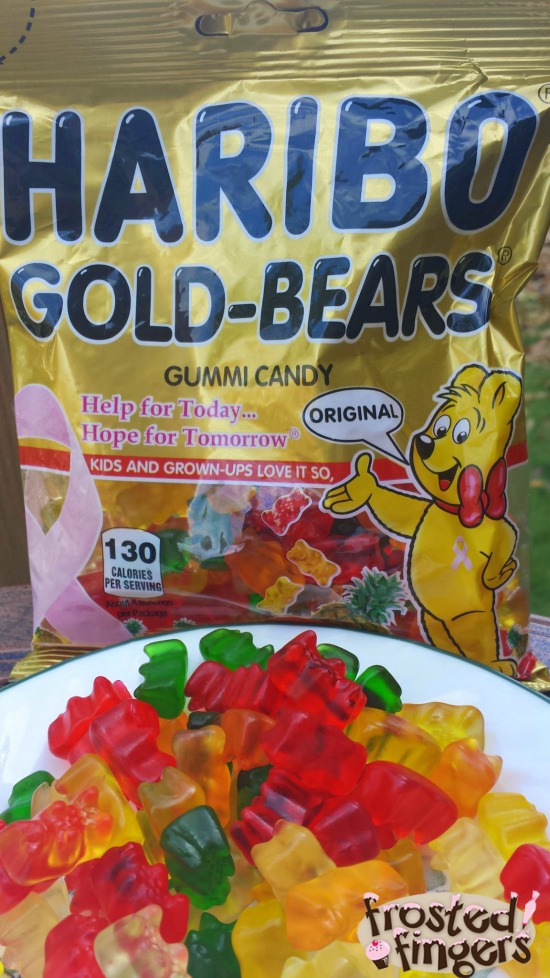 Breast cancer is so scary and it effects so many people. I was told my Aunt and Grandmother had it, but it was not something that was talked about in our family. I can't even ask them about it since they are both gone. My neighbor recently had it and kicked it to the curb. We also found out that Monkey's kindergarten teacher and Buddy's 3rd grade teacher battled it and won. I think one of the scariest things to me is that it could come back after you've had it once; that even though you beat it once it could creep back in and ruin your life again. Breast Cancer scares me, a lot! I want to grow old with my husband and I want to hold my grandchildren. I will be calling my doctor this week to see if it's time for me to start getting mammograms because I want to be safe for my family!
Haribo Gold-Bears gummi candy nationwide as the company proudly announces a partnership with the National Breast Cancer Foundation (NBCF) by adding a large pink ribbon to their gummi bear bags. NBCF provides hope and inspiration to those affected by breast cancer through early detection, education and support services; and will receive a portion of Haribo pink-ribbon bag sales during National Breast Cancer Awareness Month in October. NBCF provides free mammograms to women in all 50 states through our network of hospitals, and is one of the most recognized and
respected breast cancer charities in the world. Since 2003, NBCF has received the highest 4-star rating by Charity Navigator, America's premier charity evaluator. For more information on NBCF, please visit nbcf.org.
Haribo Gold-Bears pink ribbon bags will be sold in select Target, Kroger and retailers across the nation at a suggested retail price of $1.09 – $1.69. For more information on Haribo, please visit www.facebook.com/HariboUSA. If you are a local reader and would like to win a bag of the Pink Ribbon Haribo Gold Gummi Bears, please leave a comment below and I will choose two winners on 11/3/14. Have you started getting mammograms done for early detection of breast cancer? Have you or someone you loved battled breast cancer?