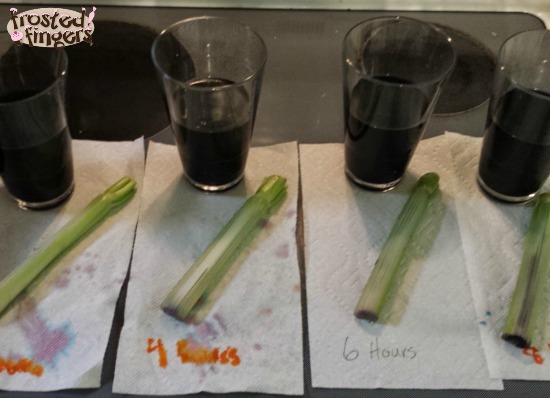 We actually did this project a few weeks ago, but I've been a little behind getting them up. This was a fun project to check out at the end, but pretty boring to do. I think my celery wasn't fresh enough and I also didn't have celery with leaves so we didn't get to see great results for this science experiment.
Have you ever seen a green carnation on Saint Patrick's Day? Have you wondered how it got its color? Did you ever wonder how a paper towel can soak up a spill, or how water gets from a plant's roots to its leaves? The name for this is "capillary action."
Kids in the Kitchen: Celery by Midnight
Ingredients
4

same-size stalks of FRESH celery with leaves

4

cups

or glasses

Red and blue food coloring

a measuring cup

4

paper towels

a vegetable peeler

a ruler

some old newspapers
Instructions
Lay the 4 pieces of celery in a row on a cutting board or counter so that the place where the stalks and the leaves meet matches up.

Cut all 4 stalks of celery 4 inches below where the stalks and leaves meet.

Put the 4 stalks in 4 separate cups of purple water. (Use 10 drops of red and 10 drops of blue food color for each half cup of water.)

Label 4 paper towels in the following way: "2 hours," "4 hours," "6 hours," and "8 hours." (You may need newspapers under the towels.)

Every 2 hours from the time you put the celery into the cups, remove 1 of the stalks and put it onto the correct towel. (Notice how long it takes for the leaves to start to change.)

Each time you remove a stalk from the water, carefully peel the rounded part with a vegetable peeler to see how far up the stalk the purple water has traveled.

What do you observe? Notice how fast the water climbs the celery. Does this change as time goes by? In what way?

Measure the distance the purple water has traveled.
You can also make a list of other objects around your house or in nature that enable liquids to climb by capillary action. Look for paper towels, sponges, old sweat socks, brown paper bags, and flowers. What other items can you find?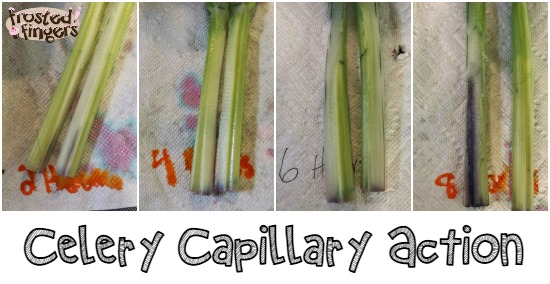 I split the celery stalks in half so you can get a better idea of how it traveled up ours.
What you'll learn
Capillary action happens when water molecules are more attracted to the surface they travel along than to each other. In paper towels, the molecules move along tiny fibers. In plants, they move through narrow tubes that are called capillaries. Plants could not survive without capillaries, because they use the water to make their food.
Come join my co-hosts, Melinda of LookWhatMomFound, Kate of Busy Bee Kate. Jeannette of EcoIncognito and Sara at Sensibly Sara, each week linking up a post, new or old, that feature the theme Kids in the Kitchen. It doesn't matter what you are doing as long as you are doing it together, enjoying it and learning something along the way.
preparing healthy snacks
discovering a local restaurant that your kids love
You'll find so many more ideas on the #KidsintheKitchen Pinterest Board.