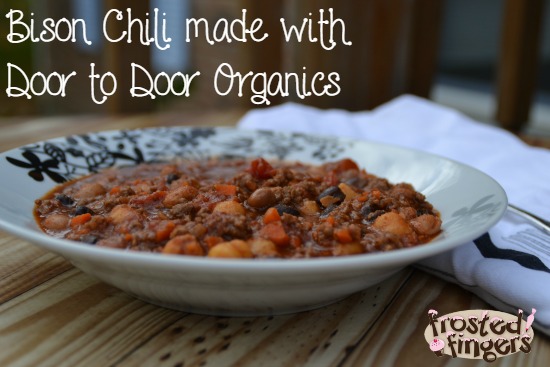 Last week I wrote how we were loving our Door to Door Organics deliveries. This week on our delivery I added in all the stuff I would need to make chili since the weather is getting colder and chili is the perfect warm you up kind of meal. I love that I can have fresh, organic foods delivered right to my door! I got everything I needed except for the spices since I already have them at home. Bison meat is one of my husband's and my favorite meats so I wanted to give it a try in some chili. It's a low in fat meat; I didn't even drain the meat after cooking it.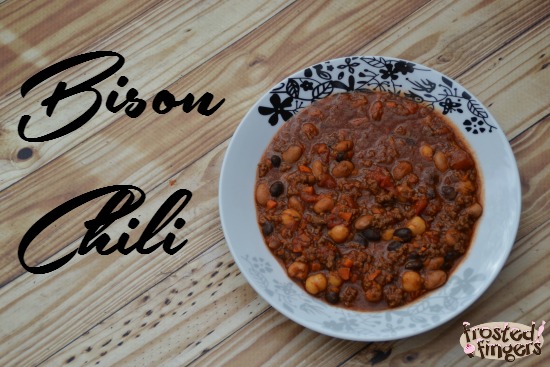 Bison Chili Recipe
Ingredients
1

lbs

ground bison

1

onion

finely diced

1

cup

of carrot

finely diced

2

tablespoons

chili powder

I would use less if your kids don't like spicy

2

teaspoons

salt

1

teaspoon

garlic powder

1

teaspoon

dried thyme

1

teaspoon

black pepper

½

teaspoon

cayenne pepper

1

can pinto beans

1

can black beans

1

can garbonzo beans

1

15 ounce can diced tomatoes

1

6 ounce can tomato paste
Instructions
In a large stock pot add your bison meat, onions, and carrots. Cook your bison meat until brown and onions are see through.

Add the rest of the ingredients and cook on high until it starts bubbling.

Reduce heat to low and simmer for 30 minutes.

Serve with cornbread and whatever toppings you may like: diced onion, cheese, sour cream, etc.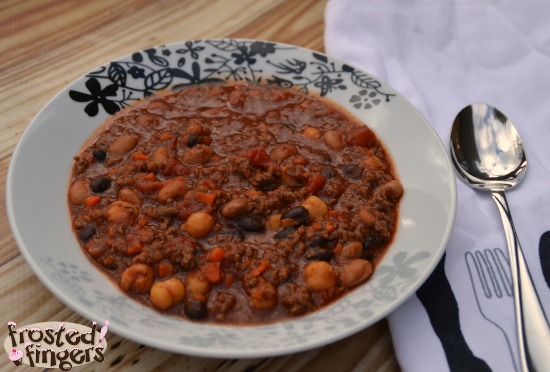 I love my chili with lots of beans because it fills me up and keeps me full longer. I love the way this chili turned out. It'll be great to warm us up after Trick or Treating tonight! Do you have a go to meal that you have every Halloween?
If you'd like to try Door to Door Organics, I can offer you $10 off your first delivery and I'm giving away 3 separate $50 gift cards! Check to see if Door to Door Organics delivers to you and the $10 off coupon code will automatically populate for you. For the giveaway, visit my post on Door to Door Organics. (Giveaway ends November 8, 2014)
Note: I received a gift certificate in exchange for this post. All opinions are my own.