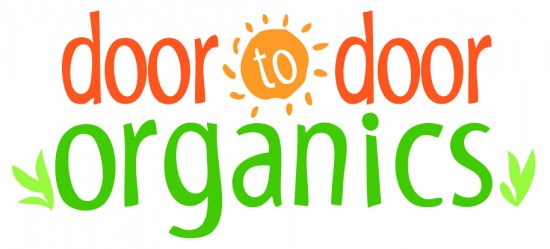 Is buying organic important to your family? Do you live in the Chicago area? Door to Door Organics is for you! I am loving that I get a box of fresh, organic fruits and vegetables delivered to my front door every week. I also love our delivery driver! She is so sweet and friendly!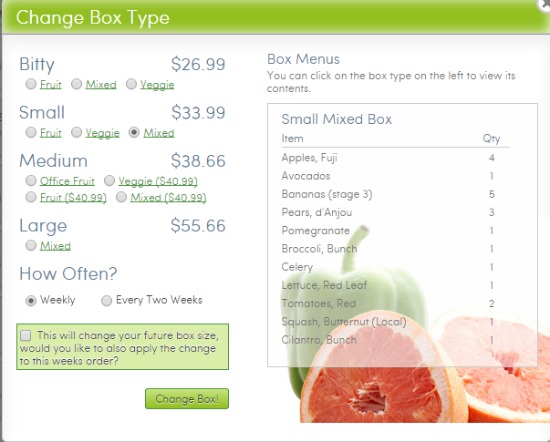 There are four different box sizes you can choose from, then you can decide if you want fruit, veggie, or mixed delivered and how often.
Our most popular choice is The Bitty Box. It's the perfect starter box for the single cook, roommates, or a couple.

Next up is The Small Box, a good size for a couple that cooks and might have a small child.

Then you could move up to The Medium Box, which works best for a hearty vegetarian couple or a family with some veggie- and fruit-loving children.

The biggest of them all is The Large Box, which should satisfy the needs of most any family, and if not you can always order more. Also perfect when you're planning a get-together.

You can always change your order size, so try a few different sizes to see what works best for you and your family. With all sizes, you can choose between a mix of 100% certified-organic veggies and fruit, veggies only or fruit only.
We get the small box and honestly never go through a whole box in a week. I think that may say that I don't use enough fruits or veggies. I'm working on it, though!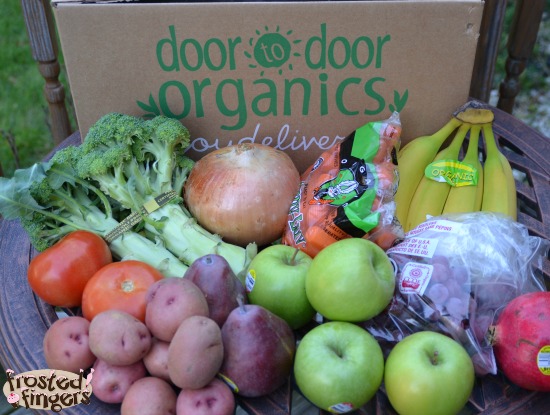 You can edit your preferences so that you will never receive something you don't like and they will try to substitute in things that you REALLY like. You also have up to 5 substitutions that you can make each week up to a day before your delivery is due. My husband will go through 3 avocados in one week, so I tend to add those in instead of something else. He also likes fresh veggies in his eggs so I like having those kinds of veggies delivered: tomatoes, onions, green peppers. At any time you can also have other items added on to be delivered with your fruit and veggies box. I've had sausage delivered before because I was told to try the Applegate Naturals Chicken and Maple Frozen Breakfast Sausage. My husband liked the sausage. I wasn't a fan of the maple flavor. Next time I will try one unflavored. This next week I'm going to add in some bison and beans for a special meal I'll be featuring next week!
For $33.99 a week my family is getting more than enough fresh produce delivered to our door! If you'd like to try Door to Door Organics, I can offer you $10 off your first delivery and I'm giving away 3 separate $50 gift cards! Check to see iDoor to Door Organics delivers to you and the $10 off coupon code will automatically populate for you.
Also check out the recipe I made for Organic Bison Chili with ingredients from Door to Door Organics.
Note: I received a gift certificate in exchange for this post. All opinions are my own.
Giveaway is open to the USA, must be 18 or older to win, and ends on November 8 at 11:59:59 PM Central. Winner will be selected at random from all eligible entries and will be contacted by email. Winner will have 24 hrs to respond. Winner may only win one prize pack per year, if you win on another site, a new winner will be drawn. Please add paula@frostedfingers.com to your trusted email filter. If original winner does not claim their prize within 24 hrs, it is forfeit and a new winner will be selected promptly.
No purchase necessary to enter or win. Odds of winning are not increased by a purchase.