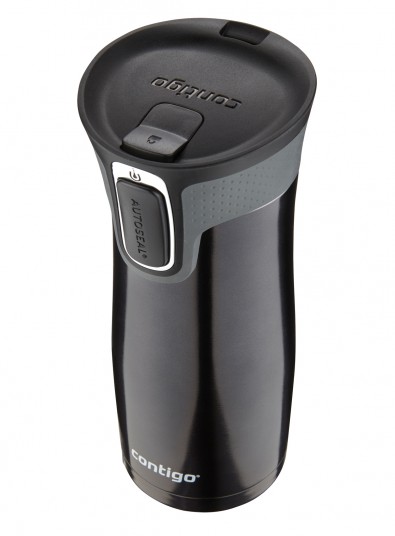 You may remember that I reviewed some Contigo Mugs a little over a year ago. This brand is my favorite on the go mug and water bottle. My sister's-in-law family loved them so much that they went out and purchased one for each member of their family- that's six kids and two adults! Contigo IS the #1 selling line of travel mugs! Their mugs and bottles are awesome, so when they asked me to try out the newest West Loop Travel Mug, I had to give it a try.
Last time we reviewed the 24 oz West Loop Mug and it was too tall to fit under our Keurig. This time we got the 16 oz and it fits perfectly! I love the changes they have made to the lid as well. They now have a lock button on the back of the lid so that you can't accidentally bump the button and spill all over yourself (not that that has actually happened to me… ok, maybe it has!)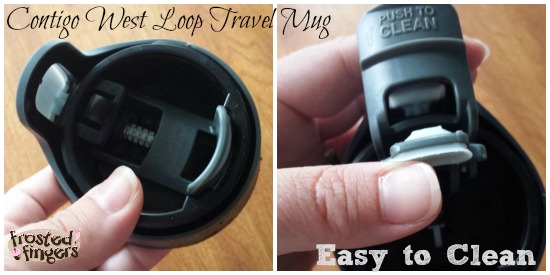 Another change to the lid is that they've made it REALLY easy to clean! You push that little grey lever on the right and the locking and mouthpiece opens up so you can get in there and clean well. I hate when you have a coffee mug and you can't get in there to clean out the icky coffee, especially when you use as much cream as I do. You NEED that cleaned out!
I love that Contigo is a Chicago based company and that all of their products are named after streets in Chicago. You can purchase the West Loop Travel Mug for yourself on the Contigo site or Amazon for $20.99. If you purchase before October 31, 2o14 you can use the code "WESTLOOP20" on the Contigo site for 20% off! I'm also giving away 4 Contigo West Loop Travel Mugs below.
Giveaway is open to the USA, must be 18 or older to win, and ends on November 7 at 11:59:59 PM Central. Winner will be selected at random from all eligible entries and will be contacted by email. Winner will have 24 hrs to respond. Winner may only win one prize pack per year, if you win on another site, a new winner will be drawn. Please add paula@frostedfingers.com to your trusted email filter. If original winner does not claim their prize within 24 hrs, it is forfeit and a new winner will be selected promptly.
No purchase necessary to enter or win. Odds of winning are not increased by a purchase.