Note: I received an eARC of this book. All opinions are my own.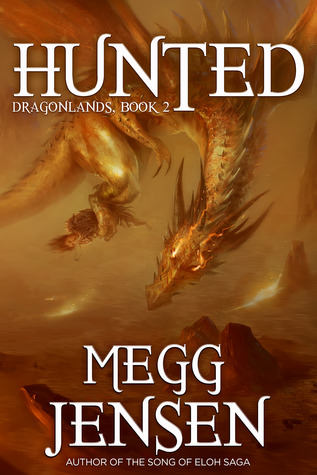 I've mentioned before how much I love the author Megg Jensen. I have read her entire Song of Eloh Series and I read her book Shucked first. My favorite series by her, so far, though, is Dragonlands. I love dragon books and Megg does NOT disappoint with her series. Book 2 of the Dragonlands series was just released: Hunted.
The fog that trapped the people of Hutton's Bridge for eighty years has disappeared, but now so have the villagers.

Fearing the worst, Tressa and Bastian must navigate a new and dangerous world in search of their people. Among their allies are a healer, a warrior, and even a dragon—but their enemies are far greater.

Hutton's Bridge has long protected a powerful secret, one the dragonlords will kill to control. As the realms rise, Tressa and Bastian risk everything to save their people, until one must make the ultimate sacrifice.
I love all the twists and turns in this book. I can NOT wait for book 3 to find out what happens to Tressa and Bastian! You need to be sure to read Hidden (Dragonlands Book 1)
before starting Hunted, because it does pick up where book 1 left off. There were a lot of questions answered from book 1, but a lot more questions have emerged. If you like books like The Game of Thrones where there are many kingdoms fighting to rule, then you will like Dragonlands. (At least Megg isn't as cruel an author as George R. R. Martin!)

Believe me, you won't be disappointed if you pick up Hunted (Dragonlands Book 2)
. Just remember to read Hidden first so you're not completely confused. If you sign up for Megg's Newsletter, you can even request Hidden for FREE! Have you read any of Megg's books? What is your favorite genre to read? What is your all time favorite book?