Last week I was asked to visit Medieval Times in Schaumburg (Chicago area) for lunch and to learn more about group, the following opinions are my own. When I showed up at the castle I saw buses arriving with a bunch of school aged kids getting off and it reminded me of going to Medieval Times with my husband when we were in high school; it was our senior field trip. I had such a great time on that trip. We cheered for the Green Knight and if I remember correctly, he won. That was back in 1996; almost 20 years ago! (Now I feel old.)
This time I forgot my good camera at home, and wouldn't it figure that I was right in the front row?! I wouldn't have been able to get such great pictures with BabyQ on my lap anyway.
If your group goes during a day time show, they do an educational aspect for about 30 minutes before the "normal" show starts because in order for a school to go on this trip, there has to be education involved. They do a question and answer session to learn about the Medieval Times and tell you more about the animals used in the show. The actual show is a tad bit different since so much time is used at the begging for the educational show. Having seen both, I didn't notice a huge difference, so you're definitely not missing out on anything.
For the lunch show, the meal is a bit smaller than a normal show. At the lunch we received garlic bread, roasted chicken, herb-basted potato, sweet corn on the cob, and a cookie. Included in your lunch is either Pepsi or Lemonade as well as water and coffee. If you go to an evening show you will also receive tomato bisque soup and a spare rib with your meal. The food is VERY good! Remember lift up your right hand- that's your fork, now lift up your left hand- that's your knife! There are no utensils in the Medieval Times castle! (Not so easy with a baby on your lap!)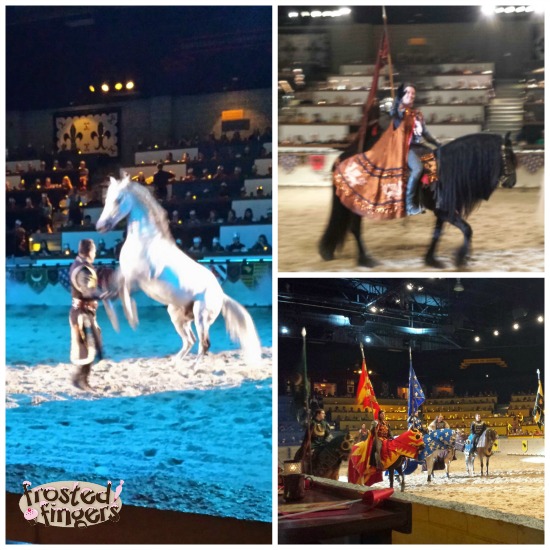 If you have a school in the area and are interested in visiting Medieval Times, here are the rates (all with tax and gratuity included):
Adult: $46.09
High School: $40.71
Middle & Elementary School: $38.55
Child: $38.55
1 complimentary admission per 20 paid and 1 complimentary chaperone and 1 driver per bus (if applicable.)
There are so many different deals for groups besides just school trips. You can celebrate birthdays, graduations, corporate events, and even bring scout troops. Scout nights are $25 per person (not including taxes and gratuity) and you can add on the Chancellor Package for another $5 which includes a photo, commemorative program and cheering banner. All scouts in attendance will also receive a Medieval Times patch! Upcoming Scout Dates: June 7 at 4:30 pm, 8th at 2 pm & 4:30 pm, 11th at 11 am, 19th at 11 am, 27th at 11 am. July 12 at 4:30 pm and 13th at 4 pm and 6:30 pm. August 9 at 4:30 pm, 10th at 4 pm and 6:30 pm, 16th at 4:30 pm, 17th at 4 pm and 6:30 pm, 23 at 4:30 pm, and 24th at 2 pm and 4:30 pm.
For all group reservations (of 15 or more) call 847-882-0555 or email ilschools41@medievaltimes.com.
Have you ever been to Medieval Times? Would you consider taking a group? I'm thinking about taking my Cub Scouts and Girl Scouts!