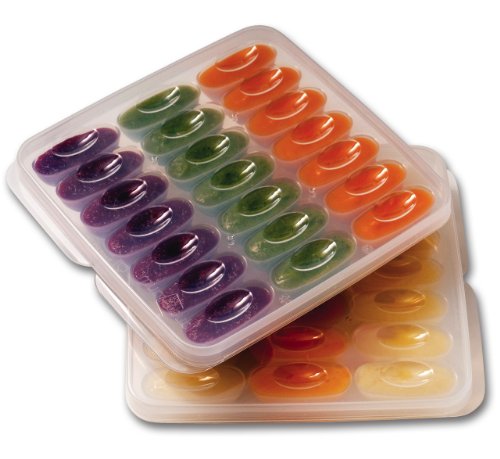 I have made baby food for all my babies and always freeze it into cubes. I've always run into issues with my ice cube trays not being all the same size and they don't have a cover so the food is just hanging out in your freezer until it's frozen. I received these mumi&bubi solids starter kit trays to review and all opinions are my own.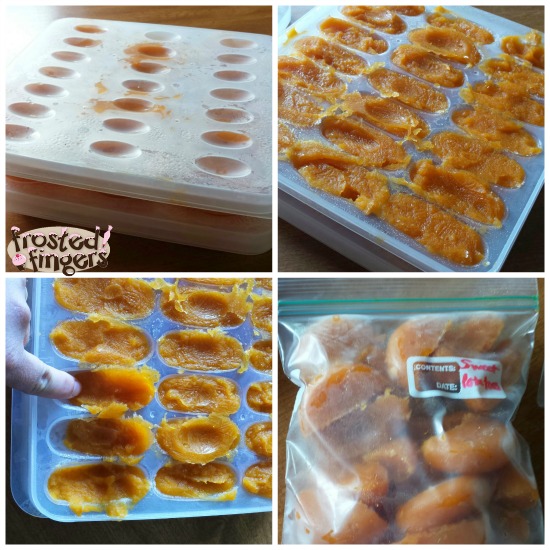 I made sweet potatoes here for BabyQ. We will start them next week since we started her on bananas this week. It's so simple to make baby food. I just wrapped the sweet potatoes in aluminum foil and baked at 400 for 40 minutes. Once they cooled I peeled them and threw them in my food processor with a little bit of water to make smooth. I then divided it up among the mumi&bubi trays and froze. Once frozen the food is super simple to release from the trays. All you do is take your finger and push down on one side of the food. Because the tray is rounded, it just pushes right out! I used three large sweet potatoes for this batch and it filled up both trays. Each tray has 21 x 1oz cubes for maximum storage; that means I have 42 oz of sweet potatoes as baby food for BabyQ! The trays are made in New Zealand and are BPA and PVC free. The trays are $25.49 for the two. I loved how easily the food came out and the fact that there is a cover over it while it is freezing so that the food isn't all exposed. I can't wait to make my next batch of food for her, which will be apples and then pears.
I love knowing that I'm feeding my baby foods that I have hand-picked and I know that there are no additives in it. Did you make food for your baby?