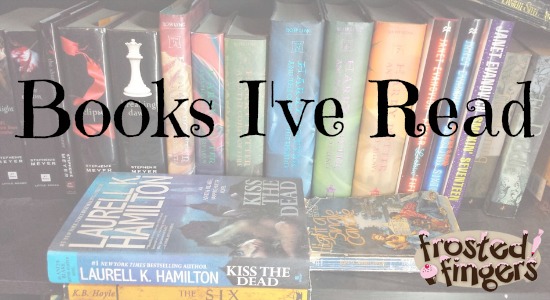 Last month I must have gotten some good reading time in. In March I only read 7 books, but in April I read 11. That brings my total up to 41 books read so far in 2014. I read for pleasure. If you give me a book to learn, I fall asleep and it'll take me forever to get through. My favorite books are paranormal, fantasy, mystery, and apparently end of the world books (dystopia). Have you read any good books in the past month? Here are the books I read in April: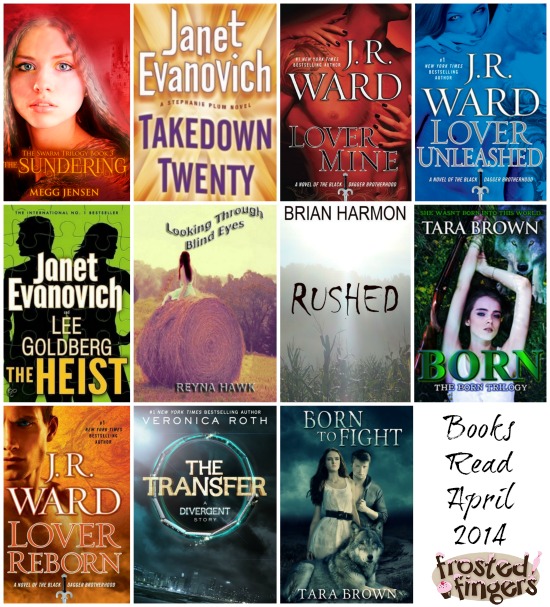 The Sundering (The Swarm Trilogy #3)
, by Megg Jensen (fantasy) I was very sad to see this series end. Lianne turned out to be a great character. I loved how the series ended. Can't wait to read more books by Megg.
After defeating the Malborn and losing the person she loved most, Lianne escapes to Chase's homeland. With her appearance forever marked by death, Lianne feels like a monster both on the outside and the inside. She retreats into herself, fearful of what she's become.

But she can't hide forever.

The Malborn, damaged but not broken, send a deadly message to Lianne. They are coming for her and now she's brought danger to a peaceful land that believed they'd driven the Malborn from their shores forever. Lianne must force herself to trust again and make the ultimate sacrifice to save everyone she loves. In a world ruled by whoever harnesses the most powerful magic, no one can be trusted – no one is safe.
Takedown Twenty: A Stephanie Plum Novel
, by Janet Evanovich (mystery) While this is a fun series which is easy and quick to read, I'm ready for Stephanie to pick a guy and the series to end. Still had funny parts, but it seems like the author is running out of things to write about. Do you really need over 100 words describing what's sold in a hardware store?
New Jersey bounty hunter Stephanie Plum knows better than to mess with family. But when powerful mobster Salvatore "Uncle Sunny" Sunucchi goes on the lam in Trenton, it's up to Stephanie to find him. Uncle Sunny is charged with murder for running over a guy (twice), and nobody wants to turn him in—not his poker buddies, not his bimbo girlfriend, not his two right-hand men, Shorty and Moe. Even Trenton's hottest cop, Joe Morelli, has skin in the game, because—just Stephanie's luck—the godfather is his actual godfather. And while Morelli understands that the law is the law, his old-world grandmother, Bella, is doing everything she can to throw Stephanie off the trail.

It's not just Uncle Sunny giving Stephanie the run-around. Security specialist Ranger needs her help to solve the bizarre death of a top client's mother, a woman who happened to play bingo with Stephanie's Grandma Mazur. Before Stephanie knows it, she's working side by side with Ranger and Grandma at the senior center, trying to catch a killer on the loose—and the bingo balls are not rolling in their favor.

With bullet holes in her car, henchmen on her tail, and a giraffe named Kevin running wild in the streets of Trenton, Stephanie will have to up her game for the ultimate takedown.
Lover Mine (Black Dagger Brotherhood, Book 8)
, by J.R. Ward (paranormal romance) Not my favorite in this series. Some aspects that made me uncomfortable but overall it was ok. Still like the series as a whole. I don't read these books for the "romance" aspect. I like the stories that are told about each of the characters.
John Matthew has come a long way since he was found living among humans, his vampire nature unknown to himself and to those around him. After he was taken in by the Brotherhood, no one could guess what his true history was- or his true identity. Indeed, the fallen Brother Darius has returned, but with a different face and a very different destiny. As a vicious personal vendetta takes John into the heart of the war, he will need to call up on both who he is now and who he once was in order to face off against evil incarnate.

Xhex, a symphath assassin, has long steeled herself against the attraction between her and John Matthew. Having already lost one lover to madness, she will not allow the male of worth to fall prey to the darkness of her twisted life. When fate intervenes, however, the two discover that love, like destiny, is inevitable between soul mates.
Lover Unleashed (Black Dagger Brotherhood, Book 9)
, by J.R. Ward (paranormal romance) While new characters were brought into the series, it felt good to get back to hearing more about the original brotherhood. I like that Manny got brought back in. Can't wait for the next book.
Payne, twin sister of Vishous, is cut from the same dark, warrior cloth as her brother: A fighter by nature, and a maverick when it comes to the traditional role of Chosen females, there is no place for her on the Far Side… and no role for her on the front lines of the war, either.

When she suffers a paralyzing injury, human surgeon Dr. Manuel Manello is called in to treat her as only he can- and he soon gets sucked into her dangerous, secret world. Although he never before believed in things that go bump in the night- like vampires- he finds himself more than willing to be seduced by the powerful female who marks both his body and his soul.

As the two find so much more than an erotic connection, the human and vampire worlds collide … just as a centuries old score catches up with Payne and puts both her love and her life in deadly jeopardy.
The Heist: A Novel (Fox and O'Hare)
, by Janet Evanovich (mystery) I like this series. It seems a little more grown up than her number series but still kind of follows the same formula with a goofy sidekick and hot guy. I can't wait to see what happens next.
FBI Special Agent Kate O'Hare is known for her fierce dedication and discipline on the job, chasing down the world's most wanted criminals and putting them behind bars. Her boss thinks she is tenacious and ambitious; her friends think she is tough, stubborn, and maybe even a bit obsessed. And while Kate has made quite a name for herself for the past five years, the only name she's cared about is Nicolas Fox—an international crook she wants in more ways than one.

Audacious, handsome, and dangerously charming, Nicolas Fox is a natural con man, notorious for running elaborate scams on very high-profile people. At first he did it for the money. Now he does it for the thrill. He knows that the FBI has been hot on his trail—particularly Kate O'Hare, who has been watching his every move. For Nick, there's no greater rush than being pursued by a beautiful woman . . . even one who aims to lock him up. But just when it seems that Nicolas Fox has been captured for good, he pulls off his greatest con of all: he convinces the FBI to offer him a job, working side by side with Special Agent Kate O'Hare.

Problem is, teaming up to stop a corrupt investment banker who's hiding on a private island in Indonesia is going to test O'Hare's patience and Fox's skill. Not to mention the skills of their ragtag team made up of flamboyant actors, wanted wheelmen, and Kate's dad. High-speed chases, pirates, and Toblerone bars are all in a day's work . . . if O'Hare and Fox don't kill each other first.
Looking Through Blind Eyes (Valentine/Petrilo)
, by Reyna Hawk (mystery) I liked the story line but did not like the way the author wrote the story at all. There was way too many grammatical errors and I don't like how the characters were never truly developed. The only reason I kept reading was because I wanted to find out what happened after the first chapter. I would like to read the sequels, but this first book was too poorly written. I don't like giving bad reviews because someone poured their time an energy into writing this book.
Janie and Daniel wanted to escape the monotony of small town life in Louisiana, so they packed up and head for the City of Angels, Los Angeles, in search of opportunities. What this sister and brother find is organized crime and a dark path that leads to death, suspicion, lies, betrayal and love. Who will survive on the wrong side of a gun?
Rushed
, by Brian Harmon (paranormal mystery) Interesting book. I have deja vu dreams from time to time and they freak me out. I always try to change them when I realize it's happening. This is the worst deja vu dream ever! The author was very creative with the twists and turns. I can't wait to find out what happens next.
Eric can't remember the recurring dream that keeps waking him in the middle of the night with an overwhelming urge to leave, yet he spends each day feeling as if he desperately needs to be somewhere. With no idea how to cure himself of this odd new compulsion, he decides to let it take its course and go for a drive, hoping that once he proves to himself that there is nowhere to go, he can return to his normal life. Instead, he finds himself hurled headlong into a nightmare adventure across a fractured Wisconsin as the dream reveals itself one heart-pounding detail at a time.
Born: The Born Trilogy (Volume 1)
, by Tara Brown (science fiction, dystopia) Born is along the same lines as Maze Runner. Another series where people decide it's ok to wipe out the world's population in order to save the world.
I like the characters and how they grow as the book progresses. Can't wait to finish the series to see where it goes.
"It's us and them, Em. There are no regular people anymore."

Ten years ago when the world ended she ran for her life.

Five weeks ago the world she'd hidden from came knocking on the door of her secluded cabin.

Ten days ago she found salvation hiding amongst the dead.

Yesterday she went back for the living.

Today she wonders if she will live to see tomorrow.

What do you do when the world you were born to is gone?

Where do you hide when even your own body isn't safe?

Emma ran when her daddy told her to. She hid like he said she should. He was the first person she turned her back on. The first one she let die.

Ten years has gone by and she still lives by the simple rules he taught her when she was nine years old.

"Don't help anyone. Don't go where other people are unless you have to. Trust no one. Always pull the trigger."

Until one night she hears the worst sound in the world, a knock. A simple, timid knock, on the door to her cabin.

Only the voice of the brave little girl, ready to die for her brother, persuades Emma to open the door.

As her fingers turn the lock, she has a terrible feeling she will regret her decision.

But even as regret fills her world, so do love and companionship. Things she never imagined she would ever have again.

Everything comes at a cost, you decide what you'll pay.
Lover Reborn: A Novel of the Black Dagger Brotherhood
, by J.R. Ward (paranormal romance) I really liked Lover Reborn. good to learn more about Lassiter and to see good things for Tohr. I can't wait to find out what happens with Xcor.
Ever since the death of his shellan, Tohrment has been a heartbroken shadow of the vampire leader he once was. Brought back to the Brotherhood by a self-serving fallen angel, he fights again with ruthless vengeance, unprepared for a new tragedy. Seeing his beloved in dreams—trapped in a cold, isolated netherworld—Tohr turns to the angel Lassiter to save his former mate. The only way to rescue her is for Tohr to love another. As war with the lessers rages, and a new clan of vampires vie for the Blind King's throne, Tohr struggles between an unforgettable past and a hot, passion-filled future. But can his heart let go and set all of them free?
Four: The Transfer: A Divergent Story (Divergent Series)
, by Veronica Roth (science fiction, dystopia) If you've read the Divergent series, it's fun to go back and see where Tobias (Four) comes from. I can't read to read the other stories from his perspective.
More Four! Fans of the Divergent series by #1 New York Times bestselling author Veronica Roth will be thrilled by "The Transfer," the first of four new short stories told from Four's perspective. Each brief story explores the world of the Divergent series through the eyes of the mysterious but charismatic Tobias Eaton, revealing previously unknown facets of his personality, backstory, and relationships.
Born to Fight (The Born Trilogy) (Volume 2)
, by Tara Brown (science fiction, dystopia) Books like these make me want to go off the grid and live far away from society. New characters are brought in to Emma's "family" which makes it harder for her to keep everyone safe.
There are a few inconsistencies in the book. One was where Anna couldn't talk, and then she could but there was no mention of getting it back. It made me think I was reading about the wrong character or that I missed some pages. The other time was when people were left at the cabin but there was no mention of them being left there. I kept wondering what happened to them.
When Emma wakes strapped to a cold metal table she has only one name on her lips, "Marshall!" What she doesn't expect is discovering that he is only one of the disturbing people in her small world who deserves to die in a fiery death.

Twenty years ago scientists made some remarkable discoveries with genetics and the ability to perfect the babies we gave birth to.

Ten years ago the governments of the world made a hard choice, earth or people.

Nine weeks ago the choices they made came full circle.

Fourteen days ago the truth of their mutations leaked out into the borderlands and other areas.

Yesterday the worst thing they ever made learned about what she was.

Today she's coming for them and she knows about the strengths they gave her.

Tomorrow she plans on destroying everything.

She plans on starting with her her own creator. Her own father.