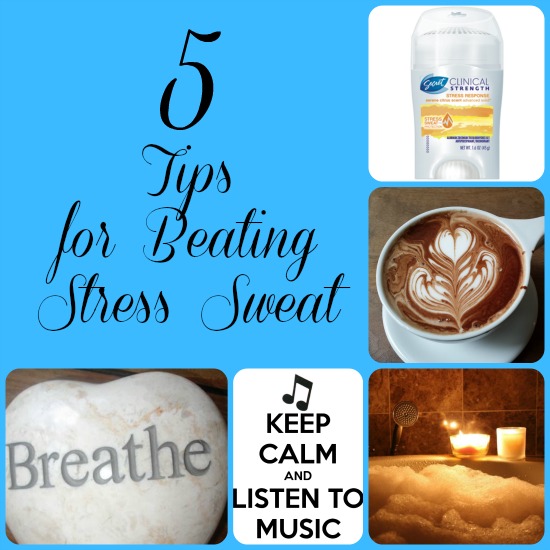 Do you stress sweat? A lot of people do. I don't do it really badly, but if you do, I wanted to give you some tips to help you out. Whether your mother-in-law has just dropped by and the house is a disaster, or you're heading into work for a huge presentation, here are 5 tips to help you beat stress sweat!
1. Take a deep breath. If someone shows up unexpectedly, excuse yourself to the bathroom and just take a few minutes to breathe. Even though you already know how to breathe, here's how to do it for stress relief: Find a quiet, comfortable spot. Sit or lie down on your back. Breathe in slowly through your nose until your abdomen fully expands. Release that breath slowly through your nose or mouth. Spend 10 to 20 minutes practicing deep breathing every day.
2. Drink decaf. If you're addicted to your morning cup of coffee, find another way to wake up. Caffeine boosts blood pressure, increases heart rate, and one study shows it may amplify the daily stress you're already experiencing.
3. Take a warm bath. The night before you have to do your big presentation, take a relaxing bath. Soaking in warm water is not only relaxing, but washing your body with antibacterial soap will also kill off the bacteria that can make your sweat smell.
4. Turn on soothing music. To me it doesn't even have to be soothing music. Music soothes me whether it's a fun pop tune I can sing along with or Yanni while practicing breathing. There's a reason spas play gentle music while you're getting a massage. Music can help you relax almost as much as the massage itself. Studies of people with heart disease find that listening to music lowers heart rate and blood pressure, and slows breathing. Fill your CD or MP3 player with calming classical or new age music, close your eyes, and enjoy some much needed rest and relaxation.
5. Use Secret Clinical Strength. If all fails, use Secret Clinical Strength to get you through those stressful situations! Moisture activated, and formulated with odor-neutralizing ingredients that release a fresh scent, Secret Clinical Strength is proven to give you 4X* the protection against stress sweat. Now available in two new forms, Clear Gel and Invisible Solid, and in scents like Ooh-La-La Lavender, Secret Clinical Strength will help you feel dry, fresh, and fearless all day long! I have the Serene Citrus scent Smooth Solid and love it!
If you'd like to try Secret Clinical Strength, I'm giving away a $25 Walmart gift card that you can use to buy your own! Tell me, what do you do to beat stress sweat?
Walmart and Secret
Note:

The Walmart gift cards and information have been provided by Secret. All opinions are my own.