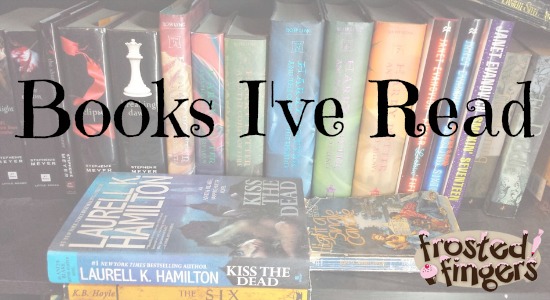 One of the things I decided I was going to do this year was track my books read because I was curious how much I read in a month and year. I know I read a lot and I know there are people that would put me to shame. My sister would read extremely fast! This is the first time I've decided to try to do a post like this. I'm not at all good at summarizing books but I want to practice doing it so I figured I'd make you my guinea pigs! 🙂 I may go back and do summaries for January and February as well. Depends on how painful this post becomes to write! In March I read 7 books bringing my total for the year to 29 books read.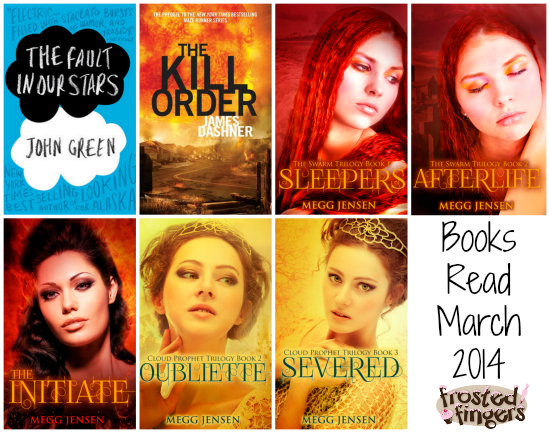 The Fault in Our Stars, by John Green (teen romance) I read The Fault in Our Stars
 on recommendation from my neighbor. I wasn't sure how I'd feel about it after I started reading it. Kids and cancer, ugh! I just had a baby and my hormones are all out of whack! Besides the fact that the teens in the book talk like college professors instead of teens, I really ended up liking this book. There's a movie coming out soon for this as well.
Despite the tumor-shrinking medical miracle that has bought her a few years, Hazel has never been anything but terminal, her final chapter inscribed upon diagnosis. But when a gorgeous plot twist named Augustus Waters suddenly appears at Cancer Kid Support Group, Hazel's story is about to be completely rewritten.
The Kill Order, by James Dashner (fantasy) I read The Maze Runner series last month and had to find out what caused all of it to happen. The Kill Order
made me angry! I couldn't stop ranting to my husband about how mad it made me. Definite government conspiracy type of book!
Before WICKED was formed, before the Glade was built, before Thomas entered the Maze, sun flares hit the earth and mankind fell to disease.

Mark and Trina were there when it happened, and they survived. But surviving the sun flares was easy compared to what came next. Now a disease of rage and lunacy races across the eastern United States, and there's something suspicious about its origin. Worse yet, it's mutating, and all evidence suggests that it will bring humanity to its knees.
The Initiate (Cloud Prophet Trilogy #.5), by Megg Jensen (fantasy)  The Initiate
(free on Amazon) is the prequel to the Cloud Prophet Trilogy and also ties in The Swarm Trilogy by Megg Jensen. I read Book 1 of the Cloud Prophet trilogy in Feb and wanted to find out what happens before to tie it all together. Now that I'm almost done with The Swarm Trilogy, I really want to re-read this book because I forgot some of it.
Over a thousand years ago, the gods left Eloh's people and took their magic with them. To win back their favor, her people sacrifice ten female initiates every ten years. No has ever survived. There has never been a Chosen One.

Forced into becoming an initiate, Eloh will try to find a way to beat the odds, stay with her boyfriend, and survive the fires that threaten to consume her. But will her lack of faith in the gods and her disbelief in their magic doom her to a painful death?
The Cloud Prophet Trilogy, by Megg Jensen
Overall I really loved this series. (I was going to try to break down my review book by book, but that was way too hard for me. Megg does a great job of making you love the characters. I love magic and fantasy books where it just takes me away from the real world and Megg does that in the Cloud Prophet trilogy. At the beginning you're rooting for Reychel to figure out her powers and then by the end you want her to have never figured them out! Definitely check out the series. Anathema
 is free on Amazon and the other two are only $2.99 each.
Oubliette (Cloud Prophet Trilogy #2) (fantasy) 
Reychel thought she was finally free. She was wrong. Everyone saw her gift of prophecy as a blessing, but her gift is uncontrollable. No one alive can teach her to manipulate her unique gift and the answers she needs lie buried within a madman's journals. She's thrust in the midst of a brewing war and the only uniting factor for her people is their belief in the Prophet.
Severed
 (Cloud Prophet Trilogy #3) (fantasy)
Reychel knows her gift of prophecy will lead to madness and now she is at her most vulnerable. The enemy army will attempt to sever her from everything she's ever known: her homeland, her friends, Mark, and her gift. Even at her weakest, she refuses to give up on her desire to end the war between the Malborn and the Serenians. Reychel would do anything, even come back from the dead, to conquer the enemy and reunite with Mark.
The Swarm Trilogy, by Megg Jensen
I almost finished this trilogy before April 1! I'm at 97% at this very moment and will have it finished by this evening. This series is full of twists and turns; death and love; never knowing who to trust! I can't wait to finish up the series, but on the other hand, once I do I will be out of books to read by Megg and I've been loving all her books. If you'd like to check out the books in this series, Sleepers is Free on Amazon and the other two in this trilogy are $2.99 each. Also, Megg offers one free book when you sign up for her newsletter! You'll want to sign up so you can find out when her next Dragonlands book comes out. (I read book 1 back in January and LOVED it!)
Sleepers
(The Swarm Trilogy #1) (fantasy)
An adoptee raised in a foreign land, sixteen-year-old Lianne was content with her life as handmaiden to the queen, until a spell cast on her at birth activated. Now she's filled with uncontrollable rage and access to magic she thought had been bled from her people years ago. Even her years of secret training in elite hand-to-hand combat and meditation can't calm the fires raging inside her.

Her heart is torn between two boys, the one she's always loved and the one who always ignored her. But when the kingdom threatens to tear itself apart due to rumors surrounding the queen's alleged affair, who will Lianne protect and who will she destroy?
Afterlife
(The Swarm Trilogy #2) (fantasy)
The fire inside Lianne threatened to consume her, but she fought back and won. Unfortunately the collateral damage of her decisions won't stop haunting her. She embarks on a secret trip to find Mags and return her son, but her search leads her into another nest of lies.

Everyone's safety is in Lianne's hands as the Malborn, an enemy more fearsome than her own people, looms over them. Will Lianne be able to unravel the secrets in time to save the ones she loves the most? Or will her lack of faith in her own decisions lead to disaster?
Did you read any good books last month? I'd love some more suggestions!