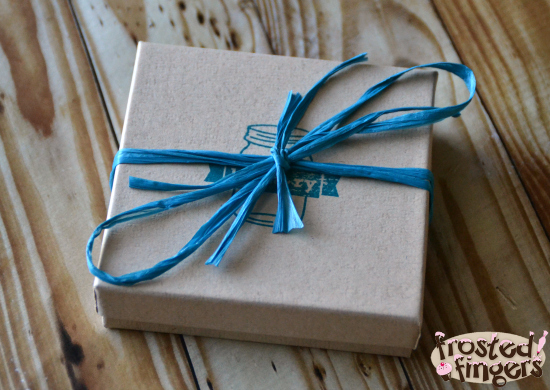 I have been dying for a family necklace for a very long time. I've hinted and flat out asked my husband for one for a few years. I guess it's a good thing he didn't get the memo since we decided to add a fourth to our family. I was contacted by Bama + Ry while I was still pregnant and she asked me if I'd like to review some of her jewelry. I perused her site a bit and fell in love with a family necklace. I had to tell her that I was pregnant and needed to hold off a bit, though, because we didn't know what baby's name was going to be. Once I got home from the hospital, though, I contacted her again because I could not WAIT to get a family necklace.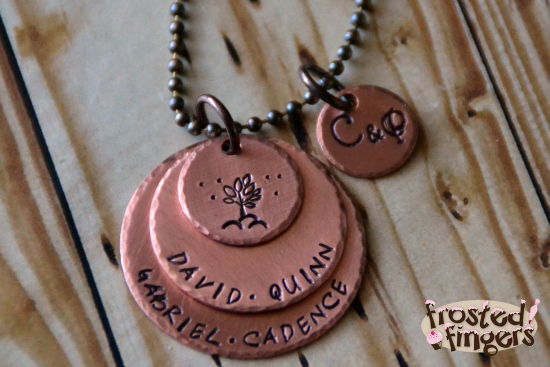 I went with the custom family tree necklace. I ran into an issue because my kids' names are so long. Normally you would put the kid's names on the big coin and the parents' names on the middle coin. Since I needed to use both coins for my kids, she came up with the idea of adding the little charm off to the side with our initials on it. I fell in love with the necklace as soon as I opened the box and I couldn't wait to put it on!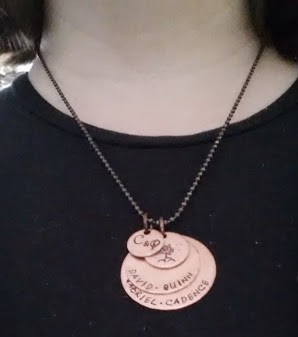 Bama + Ry is an inspirational boutique jewelry line dedicated to the positive and audacious.

All jewelry is designed and handmade by Jasmine Myers in Portland, Oregon using base and precious metals and natural stones. Ryan Myers is the not-so-silent partner and husband, tech support, and general behind-the-scenes admin portion of the business.

Our line sits firmly in the place where fashionable accessories meet personal affirmation. The women that wear bama + ry are positive and gutsy. They take life by storm and get up every single time life knocks them down. They run marathons, chase children, and spread kindness throughout their communities. What started as a jewelry collection dedicated to inspiring others now reflects the spirit of our incredible customers and, as such, continually inspires us. 

Since launching in July of 2012, bama + ry has shipped to more than 20 countries and can be found in boutiques across the United States.
Jasmine created this business after losing her only pregnancy (with twins). This business has become her baby and it shows. She's very personable and I absolutely love the details put into the necklace and packaging. If you'd like to get your own custom family necklace or other hand made jewelry made by Jasmine at Bama + Ry, you can use the code "FROSTED20" at checkout to receive 20% off. Be sure to head over and like her Facebook page as well! What would you get from her shop?