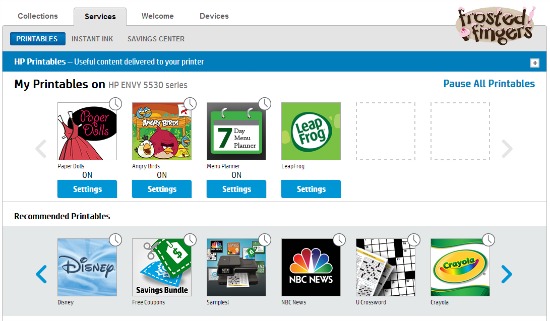 One of my goals for this year is to get more organized as you can tell from my #40BagsIn40Days Challenge. I recently received an HP ENVY 5530 e-All-in-One printer which can be connected to a site called HP Connected. On HP Connected, you can find printables for all sorts of things in your life. You can see the printables I've chosen for my family.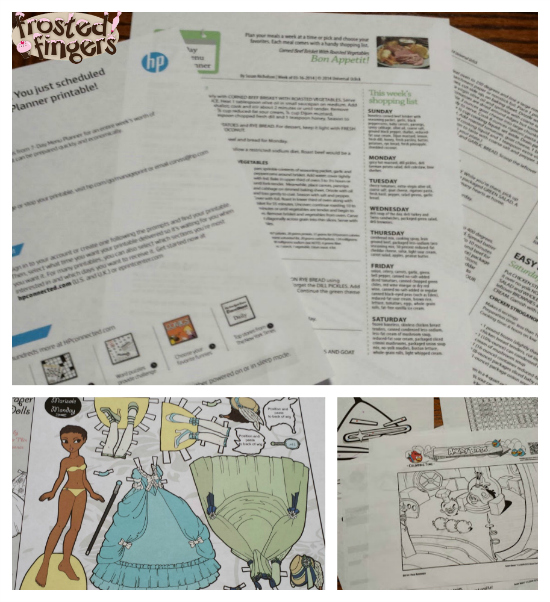 The 7 day menu planner comes with a menu planner, grocery list, and usually a sheet of coupons (for some reason I didn't get a sheet today.) What an easy and FREE way to get a menu plan sent to your house every week. I also signed up for paper dolls for Monkey, which come once a week, and Angry Birds printables for Little Man, which come twice a week.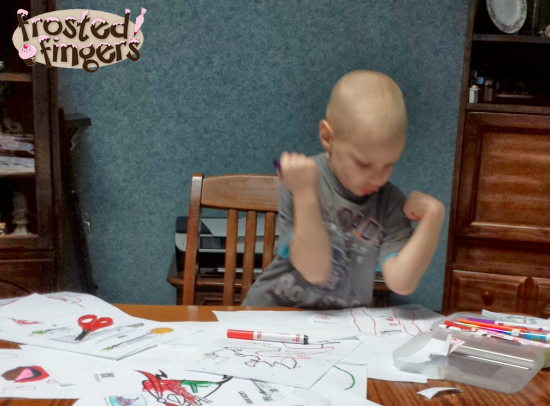 He goes all out with his Angry Birds printables. He never follows the directions on them, but as long as he's having fun and he unplugs for a while, I'm happy! Here he was attacking some piggies while he was coloring. He uses up both sides of the paper drawing his own scenes on the back. When he's done he throws everything away in the recycle bin. It's a good hour of fun for him!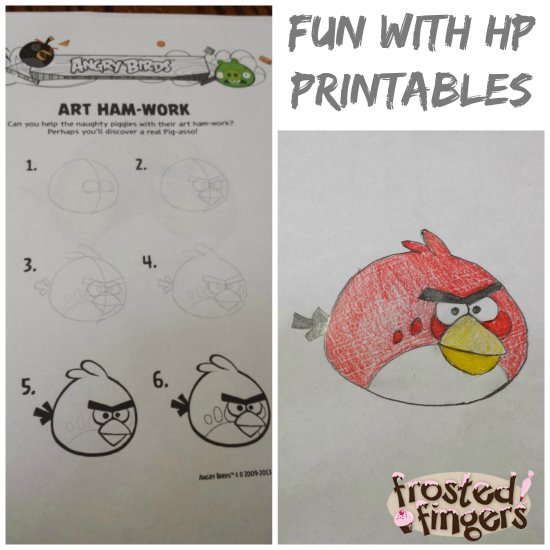 I decided to have some fun with the Angry Bird printables myself this morning, too. I love to draw but I never take the time to do it. I really should do it more often, because it's calming to me. I love that there are so many different things you can print from HP Connected. You can get crossword puzzles, coupon bundles, news, comics, to do lists, and so much more.
If you get excited about printables and are worried about the cost of ink, HP also has an ink replenishment program called Instant Ink. They have three plans available:
$2.99 per month for up to 50 pages
Each additional set of 15 pages for just $1.00
$4.99 per month for up to 100 pages
Each additional set of 20 pages for just $1.00
$9.99 per month for up to 300 pages
Each additional set of 25 pages for just $1.00
In order to be eligible for the program you need to have an HP ENVY 4500 series, HP ENVY 5530 series, or an HP Officejet 4630 series printer. If you don't print all the pages per month, you can roll over each month up to your max pages. For example, in the $2.99 a month plan you can roll over up to 50 pages in a cycle. I've already gone through my black ink, so I decided today to sign up for the $4.99 a month plan. I will let you know how it goes.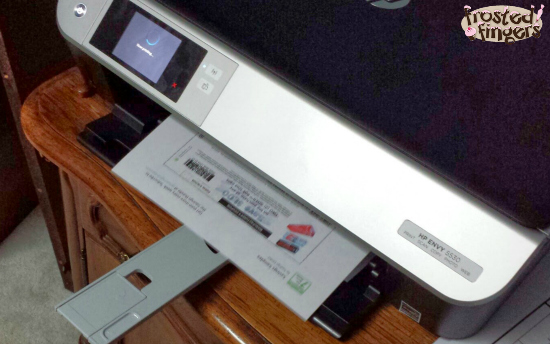 I have a quick funny story to tell. My husband was sitting at the dining room table the other night when the printer started printing. He asked me if I was printing something and I said "no, it's an automatic printable." He told me that he turned on Rio for the kids the other day and came back into the dining room where the printer is and Angry Birds printables were coming out of the printer. He thought somehow the DVD connected to the internet and then connected to the printer to print out Angry Birds sheets. Just happened to be good timing!
If you could have a printable come to your house every week to help you out or entertain your children, what would you like to see?
Note: I received a printer as part of this campaign. All opinions are my own.