I found this recipe on Facebook as a slow cooker recipe and the first time I made it I forgot it was slow cooker so I decided to give it a try in just a pot on the stove. It worked great! The kids even ate the soup with no complaints… both times I've made it! Personally I'd like to make it with the tomatoes and spinach blended in and next time I may do that by leaving the tortellini out until the end. I HATE chunks of tomatoes and would eat more of this soup if the chunks were blended away.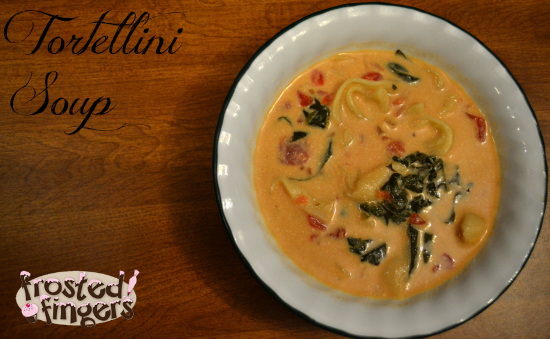 Tortellini Soup Recipe
Ingredients
1

bag of Frozen Tortellini

5

oz

Fresh Spinach

1

small chopped onion

2

cans Italian Style Diced Tomatoes

undrained

4

cups

Vegetable Broth

8

oz

Cream Cheese
Instructions
Place all items except for the cream cheese in a pot on the stove and cook on medium for about 30 minutes.

Cut up the cream cheese and add to the soup. Cook for another 30 minutes.

Serve with a side of bread.

NOTE: You can also place all these items in a crockpot on low for 5-6 hours if you want to have it ready to come home to on a busy day.
I had great intentions of sharing more pictures of the soup with you, but unfortunately it is winter in Chicago and by the time the soup was made, the sun was down and I just couldn't get a good picture to save my life!