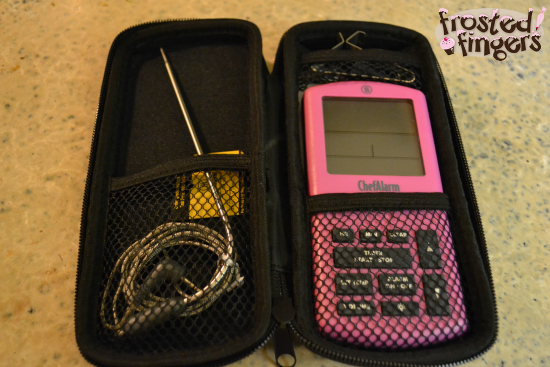 Do you ever guess if your meat is cooked all the way through? I'm constantly googling the correct temperatures for meat. I was given the chance to try out the ChefAlarm by Thermoworks and jumped at it to review. All following opinions are my own and no money exchanged hands. The ChefAlarm is a digital food thermometer that comes with a pro series high temperature probe so that you can see what temperature your food is at the entire time it's cooking. The probe cable can handle heats up to 700°F. I don't know about you, but I never cook that high!
I love that you can leave the probe in the food the entire time so you're not opening and closing the oven to check temps, which makes you lose your oven heat. You can set what temperature you'd like an alarm to go off with when the meal reaches that temperature. There are 4 different alarm volume settings that you can choose from.  Here is a little bit more info about the ChefAlarm:
Splash-proof design for commercial kitchens
Uses Pro-Series® temperature probes
Includes Pro-Series High Temp Cooking Probe with cable to 700°F max temp
Optional Pro-Series Needle Probe for thin cuts and Sous Vide
Adjustable high and low alarms
Always-on Min & Max temperatures
Adjustable volume to 92dB (4 settings)
Includes count-down and count-up timer
Really big digits and a backlight!
Available in 9 colors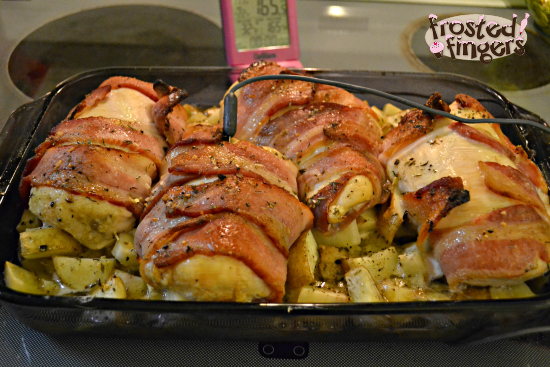 The first time I used my ChefAlarm I made Kim's Bacon Wrapped Chicken & Roasted Veggies w/ Maple Glaze. I didn't have the probe placed in the right place, though, unfortunately and part of my chicken was still raw. Whoops!! I used it again on Christmas to make a turkey and it worked PERFECTLY. I stuck the probe in the thigh and set the alarm for 165. I took it out immediately and got tons of compliments on how juicy and perfect the turkey was. So I found a learning curve with using the probe but love it overall. The ChefAlarm is currently $52 on the Thermoworks website. You can also buy a pro series needle probe for an additional $15 which is good for Sous Vide and thick meats. Your CHEFALARM includes unit, Pro-Series High Temp Cooking Probe, SST Probe Clip, Operating Instructions, and Padded Zip Wallet that neatly holds everything. The unit itself also has a nice magnet on the back if you want to keep it on your fridge instead of in the wallet.