Note: This post is part of a sponsored campaign with Those Media Girls and pick UR gift. All thoughts and opinions are my own.

Do you ever feel like you just can't find the right gift for someone? I sometimes wish I could just give a person a bunch of options and let them choose what they'd like from that list. Well, there's a new service called pick UR gift where you can do exactly that!
I think this would be a great solution for shopping for my nieces and nephews. I never know exactly what to get them, so I can now make a list and send it to their mom and let her decide what she'd like them to have. You can see above I chose a few things that Buddy would really like for Christmas to add to his list. The nice thing is that you can add from any site on the web. I used Amazon because I do the majority of my shopping there, but you can go anywhere. The way it's easy to shop anywhere is that you install the pick UR gift bookmarklet into your browser, so while you're on the site where you want to add to a gift list, you just click your UR button and it will pop up your options to fill out.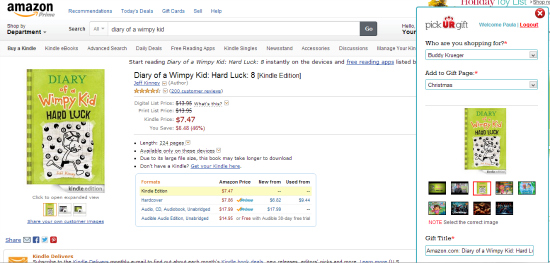 When you push the UR button you can see the screen that will pop up on your screen. At that point you pick who you are shopping for, which shopping page you want it added to, the picture of the item and description. You can make more than one shopping page per person, for example you can make a birthday, Christmas, Anniversary page, etc.
To learn more about pick UR gift and possibly win a $200 Visa Gift card (through 11/15) you can visit Eighty MPH Mom so you can get a jump on your holiday shopping.
You also have the option when you create your wishlist of making it public so that it'll show up on the pick UR gift website to give other people ideas for wishlists.
Be sure to follow along on Twitter with #pickURgift and check them out on Facebook. You can enter below to win a $250 Amazon gift card to help you with your holiday shopping.
To be eligible to win, entrants must:
1. Sign up on pick UR gift (please mention that this is easy to do – name, email & bookmarklet)
2. Create a wish list page and and assign it to someone (friend,family member, etc.)
3. Add at least two gifts to that wish list/gift page
Giveaway open to US only.

Giveaway ends November 25th