Note: I am a Chula Vista Ambassador and my family received a two night stay and dining credit in exchange for this post. All opinions are my own.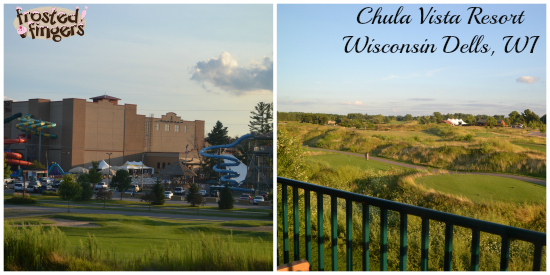 Last month, while staying in Wisconsin Dells, WI, my family got treated to a two night stay at the Chula Vista Resort. If you remember, we did stay last year at their resort as well, but didn't spend very much time getting to know it. This time we vowed to get to know the resort better and save all the outside stuff until after we left Chula Vista.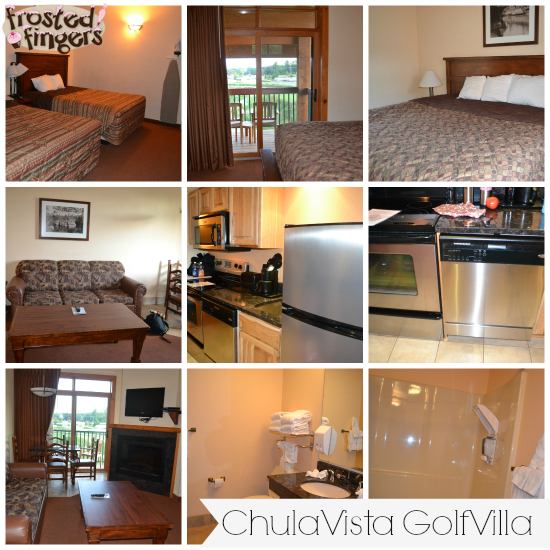 This time we stayed in one of their Golf Villas. One of the things I really liked about the Golf Villa was that you could park much closer to the building and there is a complimentary shuttle service that will take you anywhere on property so that you don't have to walk or move your car. The drivers that we got were very courteous and friendly. Our golf villa consisted of a room when you walk in that had two queen size beds which opened up into the kitchen. The kitchen has a full size fridge, oven, microwave, toaster, coffee maker, and pretty much any dishes and utensils you'll need for your stay. Off the kitchen was the one bathroom for the suite. I wish there was a second bathroom, because we had 7 people in one room and with one being pregnant, that was kind of a nightmare! The other direction off of the kitchen was the living room which had a pull-out couch, fireplace, dining room table, flat screen TV and a beautiful view of the golf course. Off of the living room was the master bedroom which had a GIANT queen size bed. (You feel like you need a step stool to get into it!) The bedroom also had a fireplace, TV, and it's own balcony. The room overall was beautiful and spacious.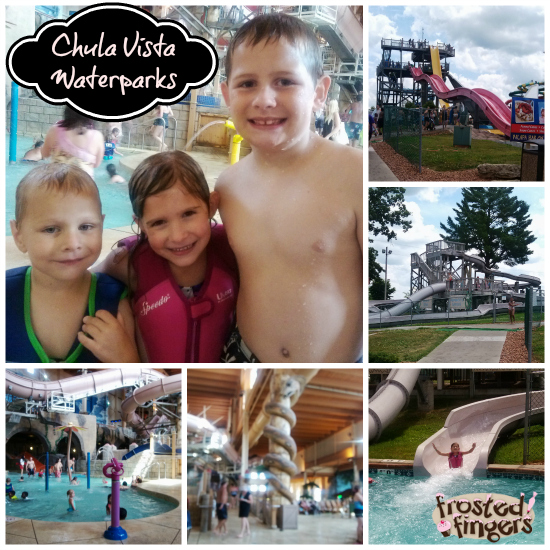 This time we were actually able to take advantage of both the indoor and outdoor waterparks since the weather, pretty much, cooperated. It was lower to mid 70s during our trip so it was still somewhat too cold for me to be in the water outside! Buddy was actually big enough to ride any one of the slides, which was awesome, except I don't like him going off by himself. Monkey and Buddy could ride almost every one. My biggest problem was that a few of the slides emptied off into what was a four foot pool. They only have height restrictions, not swimmer ability restrictions and the two little ones are not the strongest swimmers. The little two still like the indoor waterpark the best because it has that lagoon area in the bottom left of the picture above that has two short, wide slides that they can go down together and just play and splash and squirt people forever in. My husband did take Buddy on the water coaster this time and he said that it is extremely jerky. They really had a great time in the water parks this time and we made sure we went both days we were there.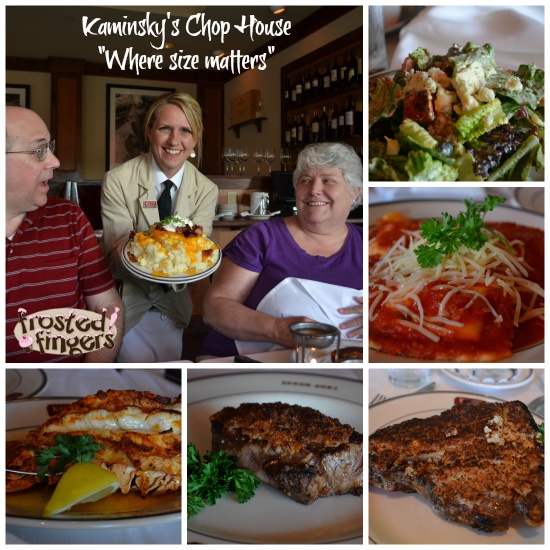 This time we actually did more dining at Chula Vista. We visited the Market Fresh Buffet each morning for breakfast, because it works for everyone to get something that they like. While at the waterpark, we visited the snack bar where we got some chicken fingers and mozzarella sticks for a snack. My husband and his father visited Big Moe's while golfing and said the food was really good and the portions were huge! The best place we ate while there, though, was Kaminsky Brother's Chophouse. Unfortunately I had a HORRIBLE cold that cut off all of my taste buds, so I couldn't taste a thing I ate. The entire family raved about their food, though. (We had leftovers of the potatoes and I ate them a few days later when I could breathe again. They were amazing as leftovers, so I could only imagine how good they must have taste when fresh!) The staff at Kaminsky's were amazing and the portions are gigantic. Just look at that plate of mashed potatoes! We had 7 at our table for dinner and were still able to have enough leftovers to have a cookout and feed close to 20 people. (Not everyone had the potatoes the second time around, but there were plenty, believe me!)
We really enjoyed our stay at Chula Vista. It's a great place to take the family and have a good, relaxing time. Right now, because you're a fan of mine, you can book a stay at Chula Vista anytime between now and November 27, 2013 for 25% off. (The fine print: Valid on any room style. Not valid with any other offers, promotions, discounts, or coupons. Not valid on previously booked reservations. Not valid on October 13, 2013. Not valid any Friday or Saturday. Must stay on or before November 27, 2013, to receive discount. Must use discount code MOM to receive discount and must present at time of reservation.) To book or for more information, please visit my special Chula Vista Landing Page. If you do stay at Chula Vista, I'd love to hear what you think. If you have stayed there in the past, did you like it? Keep your eye out here after November 1st for a giveaway for a 2-night stay at Chula Vista!