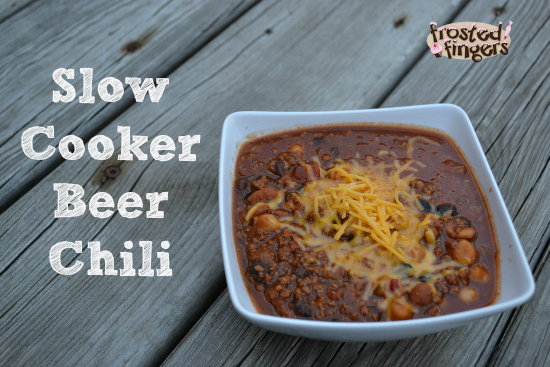 Yay! It's fall again. It's MY favorite time of the year. We can finally cool off from those extremely hot days of summer but it's not yet so cold that I don't want to be outside. This past weekend we went camping at Boy Scout camp for their annual Cub Scout Family Camp. We had a great time and the weather couldn't be much more gorgeous! It was in the upper 40s at night and I don't believe it reached 70 during the day. I was comfortable running waddling around in jeans and a long sleeved t-shirt during the day.
I knew I was going to be completely wiped out come Sunday so I wanted to be able to throw dinner in a slow cooker as soon as we got home in the morning (when I still had a little energy) and have it just be ready at dinner. I decided I wanted to try a slow cooker beer chili recipe. One of my strange pregnancy cravings is beer. Since I can't drink it, I figured I'd add it to some food.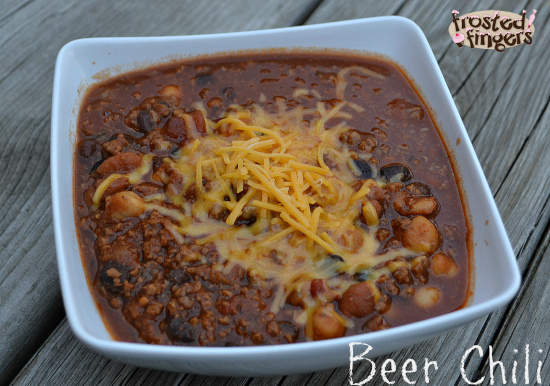 Slow Cooker Beer Chili Recipe
Ingredients
2

lbs

ground beef

1

onion

finely diced

2

tablespoons

chili powder

I would use less if your kids don't like spicy

2

teaspoons

salt

1

teaspoon

garlic powder

1

teaspoon

dried thyme

1

teaspoon

black pepper

½

teaspoon

cayenne pepper

1

can pinto beans

1

can black beans

1

can garbonzo beans

1

15 ounce can diced tomatoes

1

6 ounce can tomato paste

1

12 ounce bottle of beer (I used Budweiser)
Instructions
Brown beef with onion and cook until meat is done and onion is tender.

Drain grease off of meat.

Combine meat with remaining ingredients in a slow cooker

Cook on low for about 6 to 8 hours.

Serve with shredded cheese, sour cream, and cornbread and any other toppings you may like.