I can't believe I'm at 22 weeks already. I also can't believe it's been 10 weeks since I have updated you. Wow, what a slacker! Not really, just been extremely busy. Ignore the quality of the photo over there. Part of the reason I haven't updated is that it seems my husband is never around to take a picture. I finally just caved and had my 4yr old take a pic with my phone.
A lot has happened in the past 10 weeks. At 18 weeks I had a bleeding episode and spent half the night in the hospital to find out nothing. I think it may have come from me over doing it, but we'll never know. All I know is that it was scary because it wasn't just a little, I was soaked! I had a hard time getting in at the hospital. I think it was a full moon! The first ER we went to had a two hour wait and they wouldn't see me in L&D because I wasn't 20 weeks yet. So we headed to the hospital that was farther away, but it's the hospital that my doctor works out of. They were much more friendly just from the moment I walked in the door. Like I said, though, hours later just to find out that I had a bleed and they don't know why.
Everything since then has gone smoothly for the pregnancy. I've been tired, but not overly so. Last week I had my 20 week ultrasound and everything looks great. After all the issues we had with Little Man and ultrasounds, I was nervous. The doctor said everything looks absolutely perfect. I got lots and lots of peeks between the legs as the tech was zooming around looking at everything. There was a certain part missing to make this a boy, so we are going with this being the new baby girl in our family!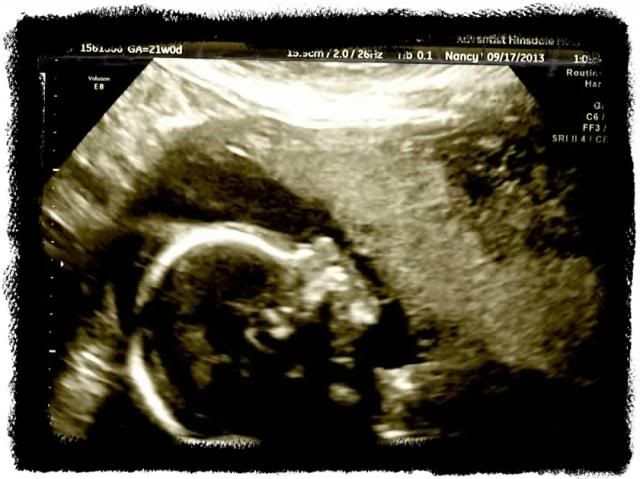 I went shopping at a resale on Friday to get some pink clothes because I have NOTHING left for a baby as far as clothes go; I gave them all away. I'll share my finds with you next week. I plan to share more often about my pregnancy now. We still don't have a name for sure. This baby is the hardest one so far!