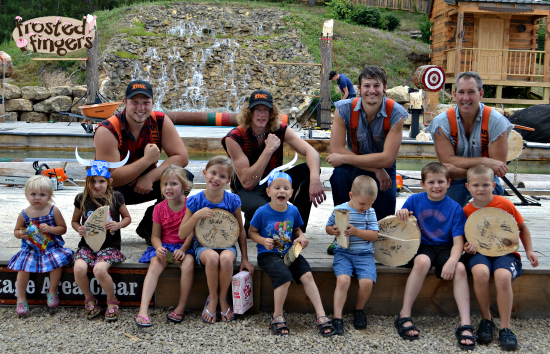 There's a new attraction in Wisconsin Dells, the Paul Bunyan Northwoods Lumberjack Show. My family eats at the Paul Bunyan Cook Shanty at least once, if not twice every time we go up to the Dells. Their prices and the amount of food that you get can't be beat! I was reading a press release at the beginning of the summer that a new show was opening in the Dells and it was a Lumberjack show, I knew we had to get there!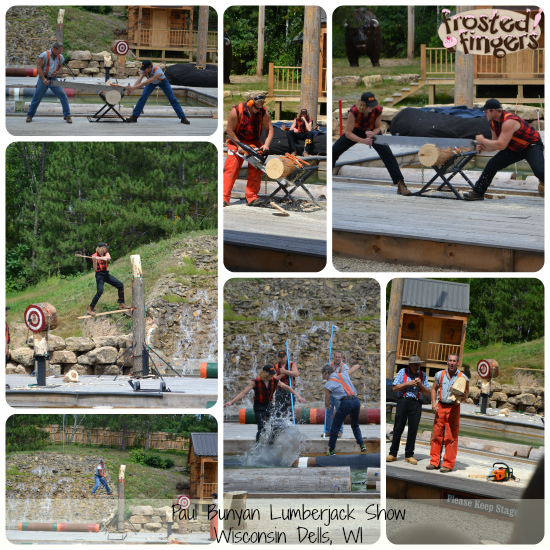 One morning on our trip we decided to hit the Cook Shanty for breakfast and if you bring your receipt with you next door, to the show, you get a discount, so we did. We went to the 11am show, because the 8pm is late with my kids. I've mentioned before, if it's after 8, Little Man will just lay his head down wherever he is and fall asleep. (They don't have an 11am show every day, so be sure to check their schedule.) Unfortunately, the show is only open during the summer since it's an all outdoor show, so their season is coming to a close this year. You definitely want to go next year, though, if you're up there! When you come into the stadium you can sit wherever you'd like, there are no assigned seats. When the show gets started, the stadium will be split in half and you'll be on a certain team of Lumberjacks, who you will then cheer on the rest of the show. I love that they encourage audience participation. The first thing you learn is the Lumberjack call: "Hey Yo!" You can use that the rest of the show to cheer on your team. There is everything you expect from a Lumberjack show: good old fashioned log sawing, chain saws (lots of chain saws), climbing, yelling, jokes, and of course a log roll competition.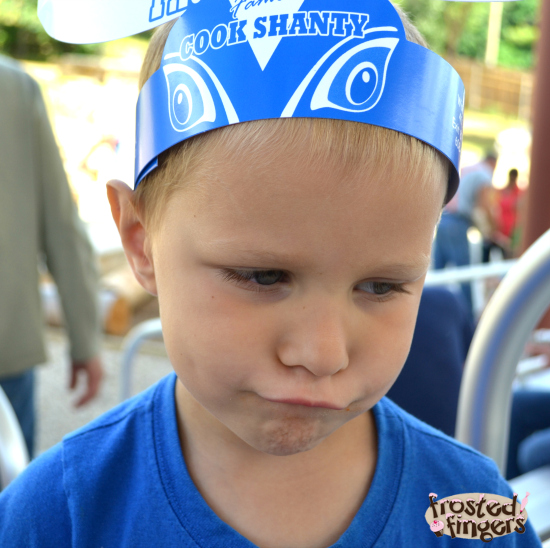 At the end of the first half our team was losing and Little Man was not happy about it. I think with the amount that our family cheered and jeered, though, we helped push our team to win in the second half. My kids absolutely loved the show and asked every time we'd pass it the rest of the week if we could go back. I told them next year for sure. Tickets are $15.99 an adult and $10.99 kids 4-12. Kids 3 and under are free. If you bring your Cook Shanty receipt with, you get 10% off. They're doing an end of season special RIGHT NOW, where you get 20% off with your receipt. Learn more about their prices here.