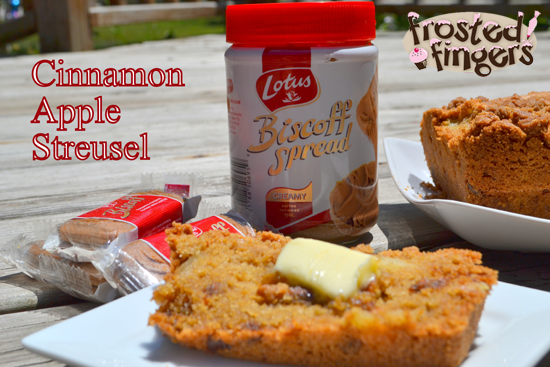 Have you ever had Biscoff Airplane cookies? I used to fly a lot when I lived in Florida and would come up to visit family in Chicago. I always looked forward to my flights so that I could get some Biscoff cookies. I was asked by Biscoff and Bust Media to tell you more about Biscoff Spread and to share a recipe with you. I came up with four different recipes to try. This is the first and only one I've tried so far. I do plan to make the other three soon, and should they turn out I'll be sharing them here for you as well.
Before I get to the recipe, check out this Spread the Love contest that Biscoff is having:
Lotus Bakeries invites consumers to share the many inventive ways they enjoy Biscoff Spread – the cookie spread made from the popular Biscoff cookies – in the first-ever Biscoff Spread the Love Challenge. From July 1 to July 28, the Biscoff Spread the Love Challenge asks consumers to get creative with their Biscoff Spread snacks by uploading photos that show their favorite ways to "spread the love."

Whether a spin on a classic snack (such as Biscoff Spread on a bagel) or a more creative twist (such as brownies made with the spread), the makers of Biscoff Spread are looking for individuals to submit photos showing how they enjoy Biscoff Spread.

Lotus Bakeries will narrow down the photo entries to the top 30. Facebook users will vote for the final grand prize winners on the Biscoff fan page. All entrants will be automatically entered in a sweepstakes to win a year's supply of Biscoff products.

The top three winners of Biscoff's Spread the Love Challenge, to be announced on August 30, 2013, will receive the following prizes:

First place – A trip to Belgium for two and a tour of the Biscoff factory
Second place – $1,500 cash
Third place – $1,000 cash

How to Enter

Visit Biscoff's Facebook page or the contest microsite.
"Like" Biscoff on Facebook and upload a Biscoff Spread photo with a title and description. Entrants may submit one additional photo for each referred friend. Please note, all qualified entrants must submit their photos between July 1 (12 a.m. EST) – July 28 (11:59 p.m. EST). Facebook fans will vote for the grand prize winners between August 5 (12 a.m. EST) – August 25 (11:59 p.m. EST).
The top three winners will be announced on Facebook on August 30.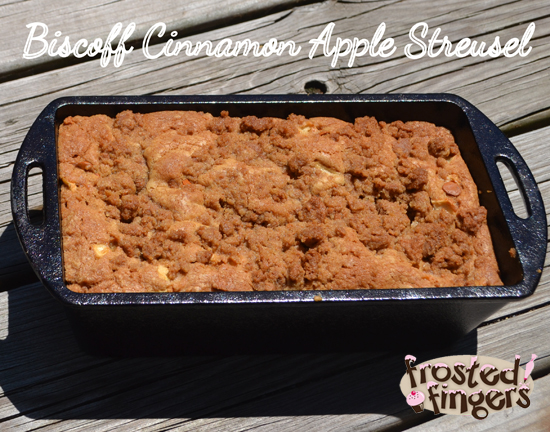 Here's some cool facts about Biscoff:
All Biscoff products are:
All-natural ingredients, preservative-free
Free of trans fat and cholesterol
Made without genetically modified ingredients or artificial colors
Vegan
Does not contain nuts
I love Biscoff spread and could eat it straight out of the jar, although I don't recommend it! It's definitely a "once-in-a-while" treat, not something that should be in your diet every day. My husband wants to try it as a Biscoff and Jelly sandwich. I may make him one next week. Now on to the recipe!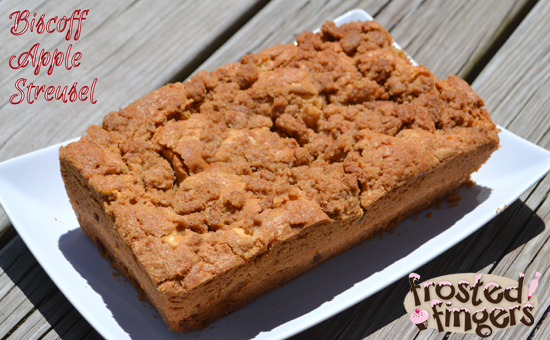 Biscoff Cinnamon Apple Streusel Recipe
Ingredients
Streusel
1/2

cup

Biscoff cookies crushed

2

tablespoon

flour

1/4

cup

brown sugar

1/8

teaspoon

cinnamon

3

tablespoons

butter

melted
Bread
2

cups

flour

1 1/2

teaspoons

baking powder

1/2

teaspoon

baking soda

1/2

teaspoon

allspice

1/2

teaspoon

salt

2

eggs

3/4

cup

vegetable oil

1/2

cup

light brown sugar

1/2

cup

sugar

1

teaspoon

vanilla

1/2

cup

Biscoff Spread

1/2

cup

cinnamon chips

like chocolate chips, but they're cinnamon

2

cups

peeled

chopped Granny Smith Apples
Instructions
Streusel
Place all of the ingredients in a medium bowl and stir to combine.
Bread
Heat the oven to 350°F and arrange a rack in the middle. Coat a 9-by-5-inch loaf pan with butter; set aside. (I used two Lodge bread pans)

Place the flour, baking powder, baking soda, allspice, and salt in a large bowl and whisk to aerate and break up any lumps. Set aside.

Place the eggs, oil, sugars, and vanilla in a medium bowl and whisk until the eggs are broken up and the mixture is thoroughly combined. Add Biscoff Spread and cinnamon chips to egg mixture and mix until combined. Add the egg mixture to the flour mixture and stir until the flour is just incorporated and no white streaks remain (be careful not to overmix). Fold in the apples until just evenly combined. Scrape the batter into the prepared loaf pan(s), pushing it to the corners and smoothing the top.

Remove the streusel from the refrigerator and, using your hands, sprinkle it evenly over the top, then lightly press it into the batter.

Bake until the bread is golden brown and a toothpick inserted into the center comes out clean, about 45 minutes.

Place the pan on a wire rack to cool for 15 minutes. Run a knife around the perimeter of the bread and turn it out onto the rack. Let cool for at least 30 minutes more before slicing.
If you are interested in picking up a jar of Biscoff spread yourself, you can find it in the peanut butter aisle of your grocery store. Here is a store locator as well. For more recipes using Biscoff spread, you can visit their Pinterest page.
Note: I received compensation for this post in exchange for honest review. All opinions are my own.