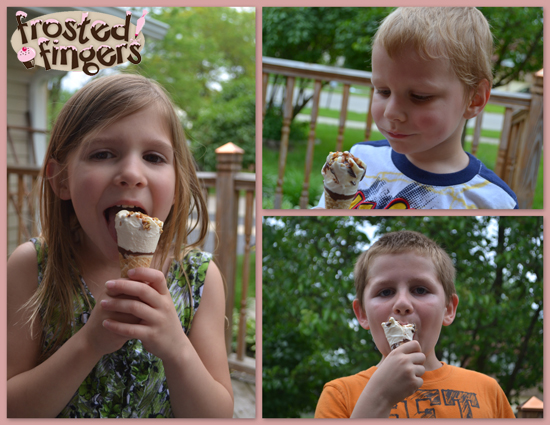 Tomorrow is the last day of school before summer break. I don't know if I'm excited or not! I'm excited to have fun with the kids and have a few less obligations (after all three day camps are over), but I'm nervous that my nerves won't handle all their fighting. Hopefully the weather will stay mild and they can spend a lot of time outside.
One thing that comes with summer is the ice cream truck! I like to stay ahead of the game and have ice cream treats in the freezer at all times, because you can buy a whole box of treats for about what you pay for one treat on the truck! If the kids are playing outside, and it's not too close to dinner, when they hear the ice cream truck coming and they run up to me for a treat I'll just let them pick something out from the freezer! One treat I love to stock is Nestlé Drumsticks. I love the original size cone with caramel in it. That's my absolute favorite ice cream.
I took Little Man to the store to pick some out and he chose the mini cones. They're the perfect size for the kids, because they don't have a huge cone to get through before it starts melting. The kids all loved their cones. (I think I may go sneak another when I'm done writing this.)
Nestlé Drumstick is the Original Sundae Cone. In 1928, the Parker Brothers took the waffle cone to the next level but adding a chocolate coating to ice cream and covering the top with nuts. One of the brothers' wives said it looked like a fried chicken leg and thus, the "Drumstick" novelty was born!
Nestlé Drumstick invites fans to "Raise a Cone to Summer" and submit a photo of them raising a Drumstick cone (real or virtual) for a chance to win a lifetime supply of Drumstick cones. Visit raiseacone.drumstick.com between Memorial Day and June 21stto submit a photo of you getting into the summer spirit by raising a cone!