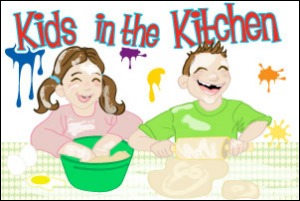 Wow, it's been a few weeks since I shared a Kids in the Kitchen. I apologize, my life has been crazy hectic with the end of school. I'm so glad that's behind us, now to get through three weeks of day camp so we can start our summer BREAK! This past week the kids didn't help out in the kitchen at all, even though they asked a few times if they could make breakfast. Yesterday, though, I had to take all three kids with to the grocery store.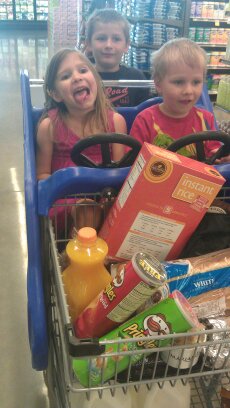 Monkey's face is pretty much how I felt after spending an hour in the store with the three kids. They actually did really well seeing that we had to wait a long time to get meat from the deli and from the BBQ place. I'm going to miss shopping with just Little Man over the summer. Three in the store is too much craziness for my sanity. I may have to shop at night or on the weekends during the summer just to do it in peace and quiet. Little Man always has a routine when we go in the store. We have to visit the lobsters on the way to the dairy section and then he has to visit the fish on the way to check out. Other than that, he's usually peaceful unless asking for a lunchable or a toy. (Lunchables are asked for more than toys.) With three, though, the constant chatter and making sure they're all where they are supposed to be is enough to make me forget things. At least at Mariano's they have the car cart which both the little kids fit. It made it much easier to keep an eye on them all. Overall they did very well so they were treated to some gelato before we left the store. If you have more than one child, how do you make it through the grocery store?
Did you have fun in the "kitchen" this week? Did you try a new food or a new kid friendly restaurant? Did your littlest ones use their snacks to count to 10? We invite you to share your experiences, photos, stories or recipes that include your #kidsinthekitchen.
Come join me and my co-hosts, Melinda at Look What Mom Found and Sara at Sensibly Sara, each week linking up a post, new or old, that feature the theme Kids in the Kitchen. It doesn't matter what you are doing as long as you are doing it together, enjoying it and learning something along the way.
preparing healthy snacks
having a tea party
discovering a local restaurant that your kids love
creating new family friendly recipes
Don't have a blog? Share an instagram photo or Facebook update.