Note: I participated in a campaign on behalf of Mom Central Consulting for ACH Food Companies Inc. I received a promotional item as a thank-you for participating.
Have you ever made a pizza from scratch before? I have memories of making my mom's special whole wheat crust "diabetic" pizza when I was younger. It was always a special day for us. We'd work all day on the dough and even make some to freeze. I loved the smell of the pizza cooking.
Yesterday, I took the plunge and tried making pizzas from scratch for the first time by myself. I used Fleischmann's Pizza Crust Yeast to make it simple, and it really was!
No rise time

To make homemade pizza dough, simply add water, salt and flour to Fleischmann's Pizza Crust Yeast, mix and knead. There is no rise after kneading like other yeasts. You just need to roll or press out the dough to make the pizza crust.

Just relax

Pizza Crust Yeast is specially-formulated with dough relaxers that keep the dough from pulling or snapping back when shaping it. So it's easy to make your crust the shape and size you like. Individual sized crusts, thick crusts, thin crusts or hand tossed crusts, it's up to you!

Top it off

Now that your homemade pizza dough has been shaped into crust, add your favorite fresh ingredients and bake. Your pizzeria-style pizza will be ready in 30 minutes.
To be honest, I was very nervous going into making these pizzas. I thought it was going to take forever, because I thought the dough would have to rise before I could bake. It was a very simple process and only took me about ten minutes per crust to make the dough. I will definitely be making my pizzas from scratch from now on. No more chemical laden crusts in my house! Yesterday we had Grandma and Grandpa come over to help cut up some branches in the backyard and had planned on a friend bringing his son over for pizza, so I made three pizzas! I made one cheese, one sausage and one with sausage, green pepper, onions and mushrooms. I even ventured into making two types of crusts. I made two white flour and one whole wheat flour pizza. I liked the white better, even though the whole wheat reminded me of the pizzas from when I was younger.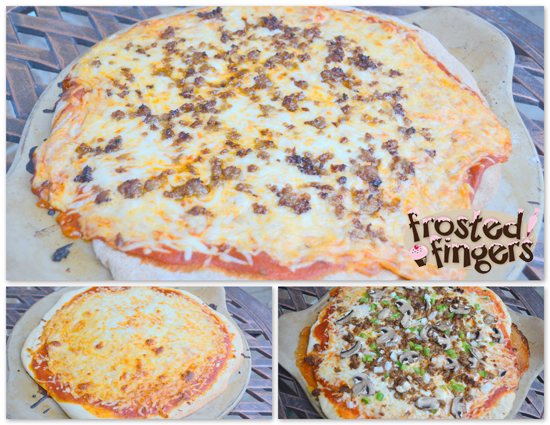 Seeing that I had only one pizza stone, I would transfer the pizza to a cake board when it was done cooking so that I could use the stone for the next pizza. Next time I will cover the board with aluminum foil so that I can reuse it instead of trashing it afterwards. I was supposed to give it a try grilling the pizzas, but our grill is broken and we can't control the flame that comes out so I would have had a charred pizza. I'd love to try grilling my pizza some day, though!
Homemade Pizza from Scratch!
Ingredients
1-3/4 to 2-1/4

cups

all-purpose flour

1

envelope Fleischmann's® Pizza Crust Yeast

1-1/2

teaspoons

sugar

3/4

teaspoon

salt

2/3

cup

very warm water

120 to 130°F*

3

tablespoons

oil

1/2 to 1

cup

pizza sauce

Other toppings as desired

1 to 2

cups

4 to 8 ounces shredded mozzarella cheese
Instructions
Preheat oven to 425°F.

Combine 1 cup flour, undissolved yeast, sugar and salt in a large bowl. Add very warm water and oil; mix until well blended, about 1 minute. Gradually add enough remaining flour to make a soft dough. Dough should form a ball and will be slightly sticky. Knead** on a floured surface, adding additional flour if necessary, until smooth and elastic, about 4 minutes.

Pat dough with floured hands to fill greased pizza pan or baking sheet. OR roll dough on a floured counter to 12-inch circle; place in greased pizza pan or baking sheet. Form a rim by pinching the edge of the dough.

Spread with pizza sauce. Top with desired toppings and sprinkle with cheese.

Bake on lowest oven rack for 12 to 15 minutes, until cheese is bubbly and crust is browned.
Just a couple of recipe notes:
*If you don't have a thermometer, water should feel very warm to the touch.
**To knead the dough, add just enough flour to the dough and your hands to keep the dough from sticking. Flatten dough and fold it toward you.Using the heels of your hands, push the dough away with a rolling motion. Rotate dough a quarter turn and repeat the "fold, push and turn" steps. Keep kneading dough until it is smooth and elastic. Use a little more flour if dough becomes too sticky, always working the flour into the ball of dough.