Note: I participated in a campaign on behalf of Mom Central Consulting for Cascade. I received a product sample to facilitate my review and a promotional item as a thank you for participating.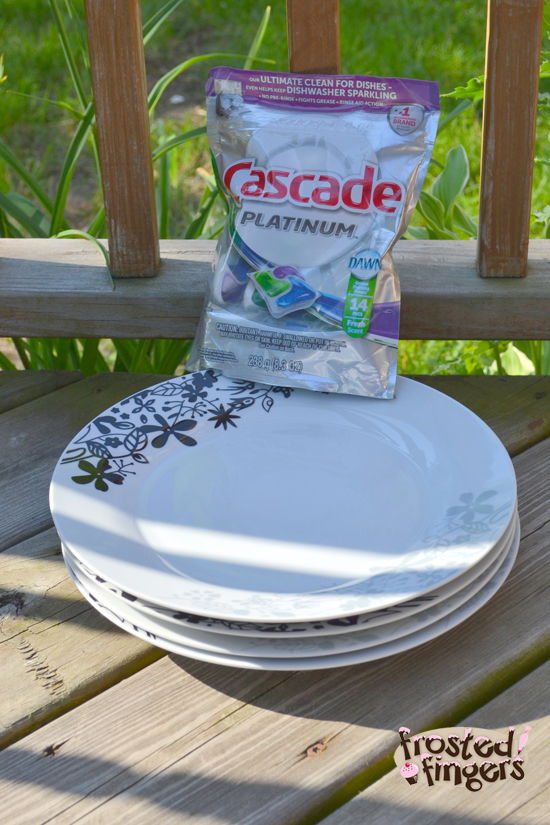 When it comes to shopping, there are very few things that I buy the name brand product, but Cascade is definitely one of them. I have an old dishwasher and it just seems to me that generic detergents just don't get my dishes clean the way that Cascade does. Knowing my plates are clean, spot and streak free are important to me since you all see my dishes on a somewhat regular basis (I know, I need to put some more new recipes up!)
Now, more than ever, people eat with their eyes, and the evidence is all over sites like Facebook and Instagram. With that in mind, Top Chef judge and editor of Food+Wine magazine, Gail Simmons, has partnered with Cascade to discuss why presentation is just as important as preparation.
From prep to plating: It's more than just a great-tasting recipe, but also perfect presentation. Sparkling dishes, shining flat ware and spot-free glasses truly let you put your best food forward with culinary creations that pop!
Gail recommends impressing with a Platinum Presentation: "The easiest recipes pop with unexpected, gourmet presentations. Drizzle bright sauces on sparkling white plates or layer desserts in crystal-clean glassware. Keep your presentation sparkling with Cascade Platinum, which keeps dishes perfect for anytime entertaining and impromptu guests."
Learn more about Cascade's partnership with Gail Simmons by viewing videos available on the Cascade Facebook and Cascade YouTube pages.
Cascade is having a My Platinum Instagram contest right now. Each week, two contestants will be selected to receive a brand new Whirlpool dishwasher. Additionally, one lucky grand prize winner will receive a Platinum kitchen makeover! Visit the contest page for more information on how to enter and submit pictures. To win, users have to both register and upload a photo with the #MyPlatinum hashtag and tag @MyCascade. Participants that have not registered will be disqualified from winning.
Each week will have a 6-day entry period where Instagram users can enter the contest with their #MyPlatinum Photo. Cascade will choose two weekly winners and one final grand prize winner after the entry period has ended. Please be sure to include both the #MyPlatinum hashtag and tag @MyCascade in your entries to the contest!
Week 1: My Platinum Plate (Entry Period: 6/3-6/9)

Show us your best dish styled from the sparkling plate up!

Week 2: My Platinum Bite (Entry Period: 6/10-6/16)

Show us your best bite and most creative use of sparkling silverware!

Week 3: My Platinum Clink (Entry: 6/17-6/23)

Show us how you serve up creative concoctions in sparkling glasses. Cheers!

Week 4: My Platinum Table (Entry Period: 6/24-6/30)

Show us your sparkling tablescape for your most special celebrations!

Grand Prize Winner (Entry: 6/3-6/30)
What kind of dishwasher detergent do you use? I normally buy the Cascade that has Dawn in it. I do like the smell of the Cascade Platinum and may switch to that permanently. It smells good in the package but does not leave your dishes with a scent which is good!