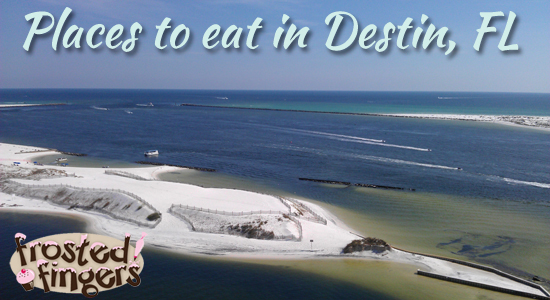 Yesterday I told you about the hotel we stayed at: The Emerald Grande at HarborWalk Village in Destin, FL. Today I'm going to tell you about all the places we ate while in Destin.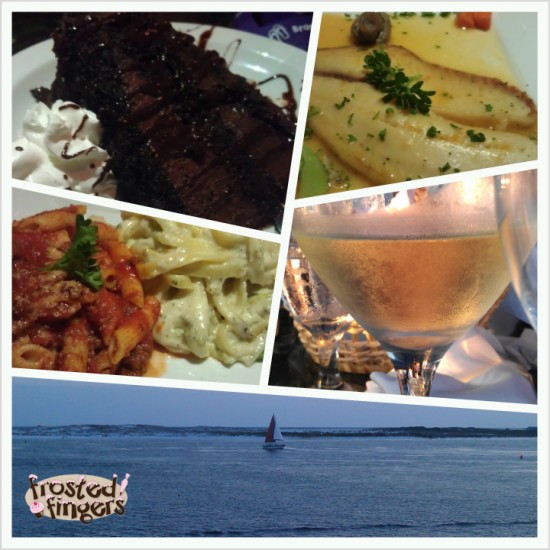 Our first evening we had a family style meal at La Famiglia. They started us off with bread and olive oil with spices. Our next course was a simple salad followed by fettuccine alfredo and penne pasta with meat sauce. They then brought out a palette cleanser and then brought out a fish dish. We then had a choice of a cannoli, triple chocolate mousse cake or tiramisu. I choose the cake. Overall the food was really very good. The chocolate cake was probably the best thing I ate, except it was very rich and I couldn't eat a lot of it.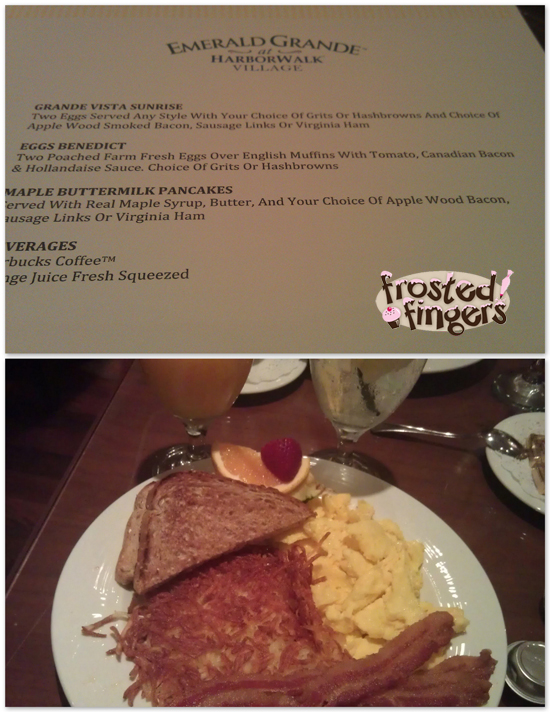 For breakfast the next morning we ate at the restaurant downstairs at The Emerald Grande. For our group they gave us a choice of four meals. I chose the Grande Vista Sunrise with scrambled eggs, bacon, and wheat toast. I know I want to be gluten free, but I've learned on past Brandcations that you eat what you can when you can because you will use a lot of fuel to keep going!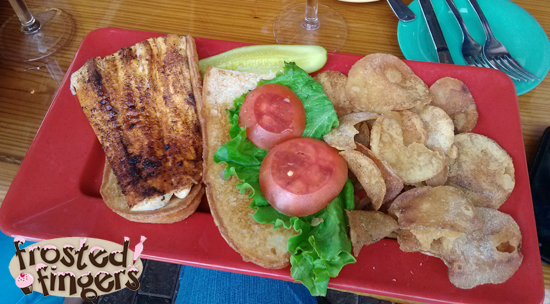 For lunch we went to Harry T's in the HarborWalk Village. Since I was in FL where the fish is fresher, I wanted to get my favorite fish: mahi. I ordered the grilled local catch lightly blackened which came with fresh, homemade potato chips. It was delicious! The fish wasn't fishy and they put a ranch type seasoning on the chips which made them great. I would totally recommend Harry T's. They have a great view and are very family friendly!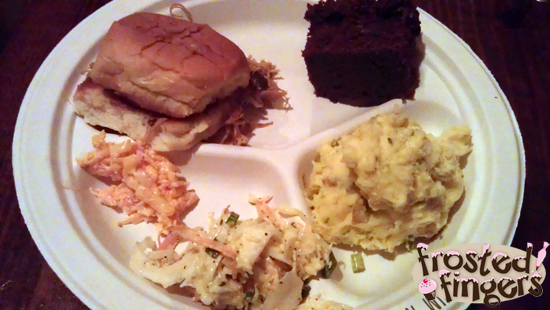 That night we took a pirate cruise, which I'll tell you more about tomorrow and we had Jim 'N Nick's catered to the boat for us. Sorry the picture wasn't that great, it was dark on the ship and I only had my cell phone to grab a pic with. The potato salad was amazing! The only potato salad I've found that I like better is my mother's-in-law. I also LOVED the chocolate cake. I'd love to give the restaurant itself a try the next time in Destin.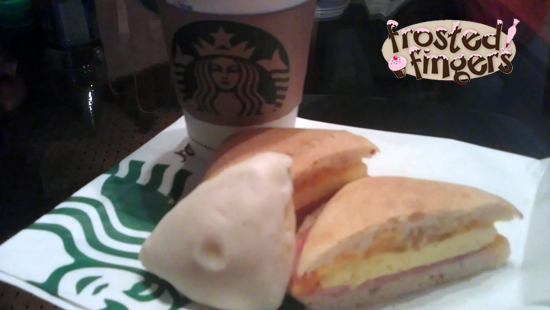 Saturday morning we had Starbucks delivered to our room. I didn't get a chance to place a custom order for my coffee and since I can't have caffeine I didn't get to have coffee. I did enjoy the sandwich and scone, though! I also enjoyed my decaf caramel macchiato that I got the day before to warm up!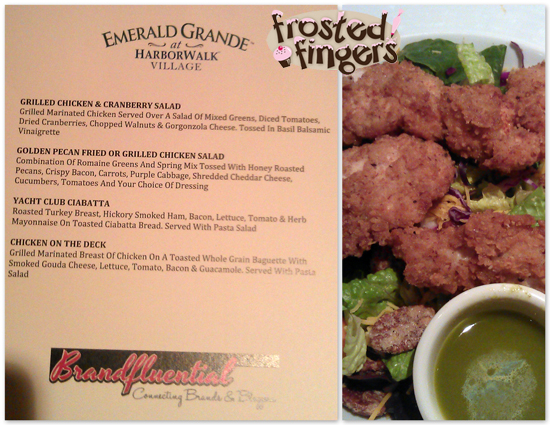 For lunch we went back to The Emerald Grande where they had another customized menu for us. I had a hard time choosing between the grilled chicken with cranberry salad and the golden pecan fried chicken salad. I ended up with the golden pecan fried chicken salad. They accidentally forgot my bacon and I didn't get it until I was done with my salad, but the salad was still awesome!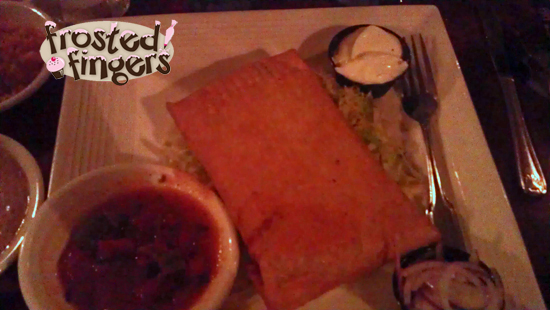 Our last dinner together was at the Crab Island Cantina. It was my favorite restaurant of the trip. It was too loud to really talk, but I know my kids would have a blast at this restaurant. They have live music and dancing and I saw quite a few little kids having a blast on the dance floor before it got too late. So not only did I have fun doing my first Brandcation Wobble, I also LOVED the food. I had the chimichanga and I loved it. Their salsa was really good, too. My biggest complaint was that the chips weren't salty enough, but that was easily remedied.
There are so many more options along the HarborWalk Village and on the rest of the island. I could take a week and not try everything! Destin is a great family destination. Keep tuned in tomorrow to learn about things to do in Destin!
Note: Most expenses were taken care of by sponsors and other expenses that weren't covered, I covered myself. All thoughts and opinions are my own.