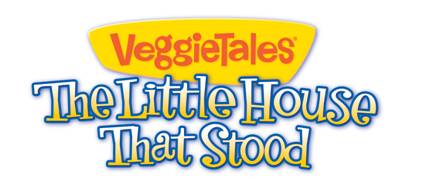 Just in time for Easter, VeggieTales is releasing The Little House That Stood, an all-new VeggieTales story premiering on DVD and available at Walmart on Tuesday, March 5. The Little House That Stood parodies two popular nursery rhymes – The Three Little Pigs and Humpty Dumpty – to help impart valuable life lessons. The Three Little Pigs meet the Wise and Foolish builders and learn that by making good choices, they can build a house that will stand against any storm! In the "The Good Egg of Gooseville" we find out what happens BEFORE Humpty cracks, in a good neighbor story where we learn why it's a nice to lend a little hand to those in need.
I got this video just in time! Little Man is suddenly in love with Veggie Tales. He only wants to listen to Veggie Tales in the car and he's been making his older brother and sister watch with him at home. I thought that the show was very well done. I really liked the Little House that Stood better than The Good Egg of Gooseville. (It wasn't bad, I just thought the Little House was better.) I loved all of Larry's fake stats in The Little House that Stood. My two favorites were:
"20% of all weather men are 30% wrong, 40% of the time." and "85% of all floods are started by water."
I also love all the familiar tunes you find throughout the show like Jaws and the Austin Powers theme. It brings something in for the adults. I think that The Veggie Tales Little House that Stood would be a great addition to an Easter basket this year.
Here are some offers from Veggie Tales for you or you can enter below to win a copy for yourself:
· When you purchase The Little House that Stood DVD at your local Walmart you will receive a FREE 24-piece TheLittle House that Stood puzzle! Plus, you can save $3 with the printable coupon that I have attached here!
· When you purchase both The Little House that Stood and The VeggieTales Bible by Zondervan you will receive a $10.00 rebate! Available at Lifeway, Family, Mardel and other Christian Retailers.
Note: I received a copy of Veggie Tales The Little House that Stood to review. All opinions are my own.

Giveaway is open to the continental USA and ends on March 26, 2013 at 12:00 am EST. Winner will be selected at random from all eligible entries and will be contacted by email. Winner will have 24 hrs to respond. Winner may only win one prize pack, if you win on another site, a new winner will be drawn. Please add paula@frostedfingers.com to your trusted email filter. If original winner does not claim their prize within 24 hrs, it is forfeit and a new winner will be selected promptly.
No purchase necessary to enter or win. Odds of winning are not increased by a purchase.