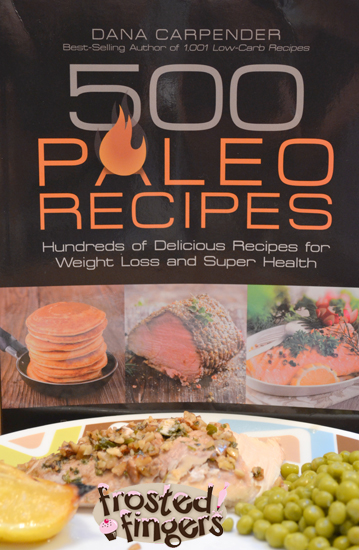 I recently got the book 500 Paleo Recipes: Hundreds of Delicious Recipes for Weight Loss and Super Health
to try out and review. While I don't want to go 100% Paleo, it's something I'm exploring and am happy to have this cookbook to try some recipes out. I tried the Walnut Roasted Chicken and will give you the recipe below. As I flipped through it the other day I saw that I also want to try Simple Sunflower Crackers and Pecan, Sundried Tomato, and Bacon Rice-a-Phony. There are definitely a lot more I'd like to try as well. Those were the three that jumped out to me on first glance through the book, though. I like that all the recipes have comments before them so that you can get an idea of what the author, Dana, was thinking. There's a nice section in the front of the book explaining what Paleo is and talking about good and bad fruits and vegetables to eat. There is a lot of good information!
Sometimes she'll mention an ingredient that doesn't really follow the Paleo lifestyle, but she'll let you know at the beginning of the recipe. Overall, I recommend this cookbook as a way to start your Paleo journey.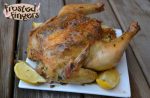 Paleo Walnut Roasted Chicken Recipe
Ingredients
4

pounds

Whole Chicken

1/4

cup

olive oil

divided

1

garlic clove

crushed

1/4

cup

finely chopped walnuts

1/2

teaspoon

minced fresh rosemary

1

tablespoon

minced fresh parsley

1

lemon

quartered
Instructions
Preheat oven to 375.

In a small bowl, mix 3 tablespoons of the olive oil, garlic, walnuts, rosemary, and parsley.

With your hands, gently loosen the skin on the chicken breast. Spread the walnut mixture evenly under the skin. Quarter the lemon and put it in the body cavity.

Rub the chicken all over with the rest of the olive oil. Put it on a rack in a roasting pan and put it in the oven.

Roast for 1 1/2 to 1 3/4 hours, or until the drumstick moves easily and the juice runs clear when the thigh is pierced to the bone.

Remove the chicken to a platter. Remove the lemon wedges but put them on the platter with the chicken. Let it rest for 10 to 15 minutes before carving.

Carve the chicken and serve with the lemon wedges to squeeze over it.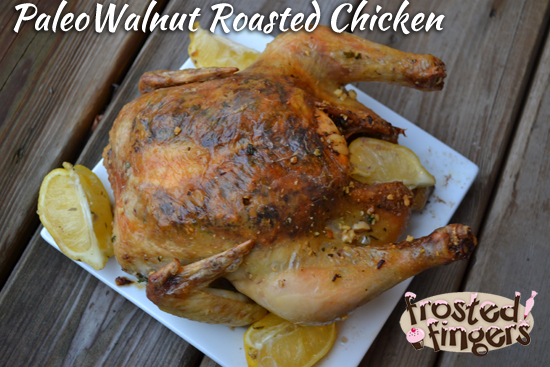 Note: I received the book 500 Paleo Recipes in exchange for this review. All opinions are my own.