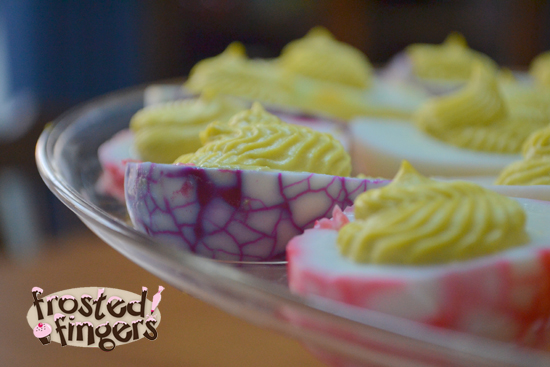 If you remember, last year I showed you how to dye your deviled eggs. This year I saw a few people do some deviled eggs that looked like dragon eggs, or crackled eggs. I had to try it! I told you yesterday in the Kids in the Kitchen post that I would get these up today. I'm sorry it wasn't earlier. I didn't get them made until 10 and then the day just got away from me!
Unfortunately, the eggs took MUCH longer than I planned. I thought it was just like any eggs, you throw them in the dye for 30 seconds and viola. Nope!! The ones I took out after a minute had very little color to them. That beautiful purple egg up there in the picture? It was in the dye for near 22 hours! I LOVE how brilliant those eggs turned out, though.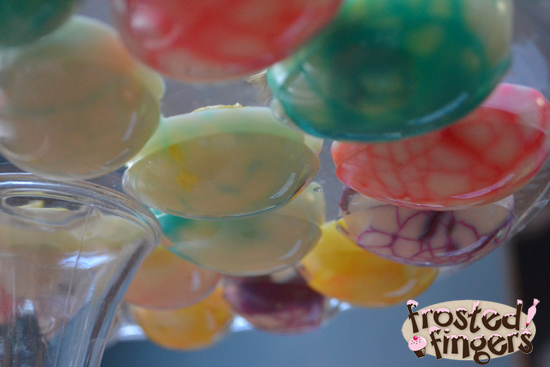 You can see the eggs in the middle were not very brilliant. Those were the ones that were taken out too early. This year I actually measured my servings for how I made my eggs. Keep in mind, I make them for a LARGE family, so I made 30 eggs or 60 halves!
Crackled Deviled Eggs
Ingredients
30

large eggs

food dyes

water

1

cup

mayonnaise

1/4

cup

mustard

paprika
Instructions
Place your eggs in water on stove and bring to a boil. Once boiling, remove from heat, cover and let sit for 15 minutes.

Immediately run eggs under cool water to stop them from cooking. When eggs are cooled, it's time to dye them.

Prepare your water for your eggs. You may just want to put it in plastic bags so that you can put them in the fridge and not worry about someone knocking the glass over. I probably used about 15 drops of dye per 2 cups of water.

Now crack your eggs and roll them on the counter to create a spider web crack all over them. Place your cracked eggs into the dye and leave them from 3 hours to overnight.

Peel your eggs after they are sufficiently dyed.

Cut your eggs in half and remove yolks into a bowl. Mash your yolks until they are very fine.

In a stand mixer, mix your yolks, mayonnaise and mustard until well incorporated and not chunky.

You can then put your yolk mixture into a plastic baggy and cut the tip to squeeze it out into your eggs, or if you have cake decorating materials, you can put it into a frosting bag and I used the Wilton tip #199.

Sprinkle your eggs with paprika and enjoy!