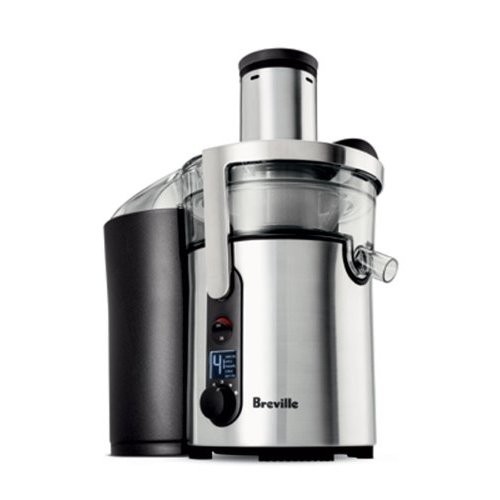 Years and years ago, we used to juice all the time. Recently I went to Mariano's and got fresh juiced orange juice and my husband now wants it all the time. I got two bags of oranges last week, and guess what's still sitting on my counter. If I had this pretty juicer, I could leave it on my counter all the time ready to juice.
I'm not even sure my juicer works anymore since it's been in storage for probably 9-10 years! I may have to visit Kitchen Blossom to check out that juicer once I get my next pay day. I like that the Breville BJE510XL Ikon Juicer has five variable speeds. You want to be able to juice tough vegetables quickly so that they don't burn out the motor, but other high water fruits need to be juiced at a slower rate to get the most out of them. I also like that the feeder tube is three inches wide so that you can stock whole apples right in the chute. I like that all parts of the juicer are dishwasher safe and that the pulp collector is outside of the juicer so that you can empty and keep juicing very quickly.
The Breville BJE510XL Ikon Juicer sells for $167.94 on Kitchen Blossom and comes with a 1 year warranty. That's not a bad price for a juicer from what I remember. I haven't been in the market for one in a long time. Since I'd like to get back into juicing, do you juice? If so, what is your favorite recipe? Ours was apple orange juice. I'd like to learn how to make a fresh V8 juice.
Note: This is a sponsored post but all opinions are my own.