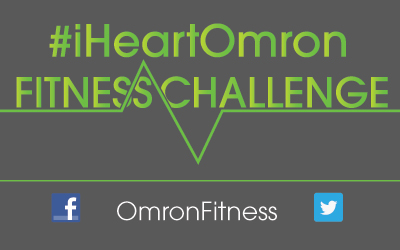 I can't believe it's been four weeks since we started this challenge for Omron Fitness. I feel like I had two great weeks and two "eh" weeks. I think last week's problem was because of my arm injury that I told you about while roller skating last week. My arm is mostly better, though it does feel a little weak while working out. I'm going to keep pushing through, smartly, though. This is my final push and I want to make this week great! Our final numbers will be revealed at the #IHeartOmron #Mamavation twitter party on Feb. 20, 2013 from 8-10pm EST!!  Make sure you RSVP here!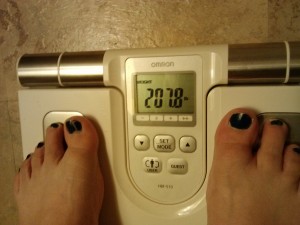 As you can see, I'm down one pound from last week. That makes 7.2 pounds total lost since I applied for this competition! The scale, though, doesn't seem to be showing the REAL progress I've made. I've lost quite a few inches which proves that I've gained a bunch of muscle along the way.
Date
Weight
Chest
Waist
Hips
Biceps
Calves
Thighs
Clothing Size
1/6
 210.4
45.5″
43″
51″
R:13 1/2″ L:14″
R:17 1/2″ L:17 1/2″
R:26″ L:26″
18
1/13
 209.8
44″
43″
50″
R:14″ L:14″
R:17 1/2″ L:17 1/2″
R:26″ L:26″
18
1/20
 210.4
44″
42 1/5″
50″
R:13 1/2″ L:13 1/2″
R:17 1/2″ L:17 1/2″
R:25 1/2″ L:26″
18/16
1/27
 208.8
 43″
 40″
48 1/2″
R:14 L:13
R:17″ L:17″
R:24″ L:25″
16
2/3
 207.8
 43″
40″
48.5″
R: 13″ L: 13″
R:17″ L:17″
R:25″ L:25″
16
2/10
I felt really silly taking "after" pictures for this post since I'm not even halfway through my progress, but I'm glad I did. I can see a difference for sure! I'm not using my side pictures because I didn't stand the same so it looks silly, but here's my front before and after shots.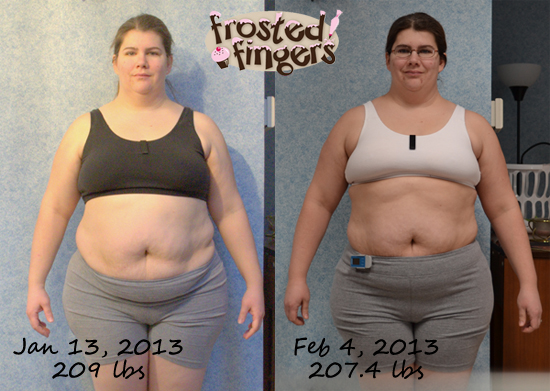 You can see the weight hasn't changed a whole lot, but I believe my body shape has. This past week we were given an Omron Strapless Heart Rate Monitor (HR-5ooU) to help keep us in the right zone for weight loss. It's going to take me some time to get used to wearing it for working out. I apparently get very sweaty while working out, because about 20 minutes into my one hour treadmill walk the other day the monitor lost my heartbeat and no matter what I did I could not get it back. My friends joked that I must be a zombie.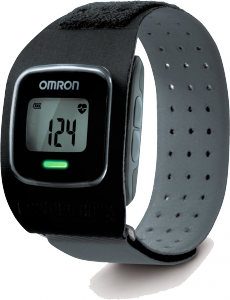 I like that the monitor flashes different colors to let you know what zone you are in for weight loss.
The new Omron HR-500U strapless & continuous wrist Heart Rate Monitor takes away the need to use an annoying chest strap while exercising.  Easy-to-use and comfortable, the HR-500U is worn on the wrist and provides accurate, continuous monitoring.  You can also track your results and progress over time at OmronFitness.com on your own personal online dashboard.
Features:
No Chest Strap— Just put it on your wrist and you're ready to go
Heart rate—Receive continuous monitoring of your heart rate
Pace & Distance—Accurately tracks pace & distance during a run or walk
Calories—Tracks calories burned during your workout
Color LCD Heart Rate Zone Alert—Programmable zones warn you if you're too high or too low with a simple, easy to read color
Software – Upload data to your personal dashboard on www.OmronFitness.com with a USB cable
Clock—Automatically resets; start with a clean slate each day
Timer
Backlight
Water Resistant
Rechargeable Battery
Washable/Breathable wrist strap—Lightweight strap for added comfort
MSRP $149.00
I am so excited for the Twitter party next Wednesday when I find out how I did in the competition compared to everyone else! I am really ready to push it this last week. Speaking of, time to go get in my "Build It" workout before I have to run and get the kids. Have a great week and see you at the party next week!
If you'd like to visit my past posts from this competition:
Week 3 Results
Full Disclosure: This post is sponsored Omron Fitness as a collaboration with Bookieboo Blogging Network and Mamavation – a community dedicated to weight loss for women and obesity prevention for families.  I was provided with product and compensation for my time and honest opinions.