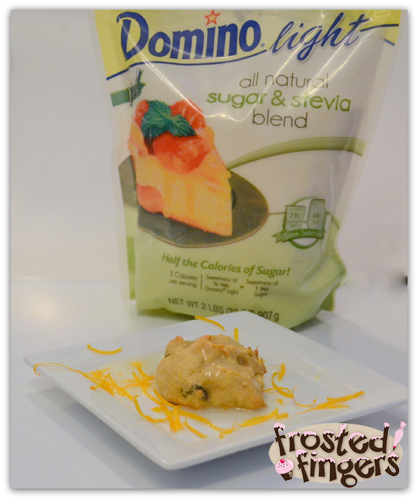 I was asked to give the new Domino Light Sugar a try with a cookie recipe and let you know how it is. Domino Light is a blend of sugar and stevia. It is half the calories of regular sugar at just 5 calories per serving. If you want to substitute Domino Light in a recipe, you use half of what the recipe calls for. So if you need 1 cup of sugar, you would use only half a cup of Domino Light.
I ended up featuring three recipes here on my blog with the Domino Light sugar, because sometimes I'm an overachiever. I still have at least a half of a bag left! The recipes I made were Frosty Orange Cookies, Frosted Pumpkin Cookies, and Cherry Pinwheel Cookies. My favorite was definitely the orange cookies. I couldn't taste any sugar difference in that recipe. The other two I could notice a slight difference in taste from regular sugar, but not a lot and no one else could. (I swear I'm just sensitive to sugar substitutes.) I like that they used Stevia, which is natural, to help cut back the calories, instead of something artificial! It makes me feel better about giving the cookies to my family.
Domino® Light is an All Natural pure cane sugar & stevia blend with half the calories of sugar. (P.S. That's over a 350-calorie savings in each cup!) By blending pure cane Domino® Sugar with a naturally sweet extract from the stevia plant, we've created a delicious sweetener with no artificial ingredients and just 5 calories per serving.
Domino Light has given me a $25 Visa Gift Card to giveaway to one lucky reader that can use it to try Domino Light Sugar for yourself.
Note: I received a gift card to try Domino Light Sugar. All opinions are my own.
Giveaway is open to the continental USA and ends on December 21, 2012 at 12:01 am EST. Winner will be selected at random from all eligible entries and will be contacted by email. Winner will have 24 hrs to respond. Winner may only win one prize pack, if you win on another site, a new winner will be drawn. Please add paula@frostedfingers.com to your trusted email filter. If original winner does not claim their prize within 24 hrs, it is forfeit and a new winner will be selected promptly.
No purchase necessary to enter or win. Odds of winning are not increased by a purchase.