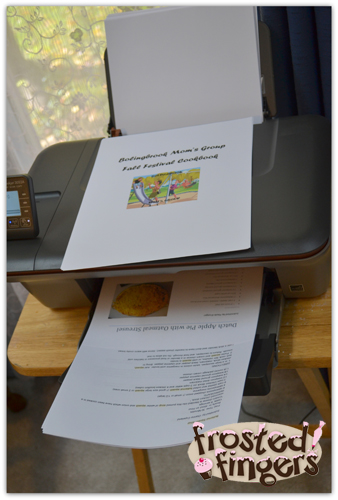 This past week I had a little party with some of my Mom's Group friends to show them a little more about the HP Deskjet 3052A printer. I had each person email me their favorite fall recipe and I printed out a little Fall Festival Cookbook for each person. We had quite a variety considering not many people could make it. We have Butternut Squash Soup, Pumpkin Pie Dip, Chili, Chocolate Souffle Cake, and Dutch Apple Pie. My one friend came as I was putting together the cookbook and she was surprised how quickly it came together and printed out on the printer. I love being able to print wirelessly. Not having to sit right where your printer is gives you so much freedom! Another nice thing about this printer is that you can set up your own custom email address where you can send things directly to your printer from anywhere, including your phone!
Quick and easy wireless printing and sharing—automatically connect to a network
HP ePrint—print documents, photos and more instantly from any mobile device. Just send it to your printer and it prints!
Save energy with HP Auto-Off Technology—turns your printer off when you don't need it
One of the things I didn't like about the printer was when scanning, you don't get a choice of what format your scan will be. The only choice is .jpg and that's not acceptable to me. I scan a lot of documents for my brother and he needs them in .pdf. I put this printer in the boys' room and they can use it for school work and such. I think it'll be great for them. The quality of the prints is great and they come out super fast. As long as you don't have the pdf scanning need, this is a great printer for the family.
Note: I was given the printer and gift cards to give out at the party in exchange for my review. All opinions are my own.