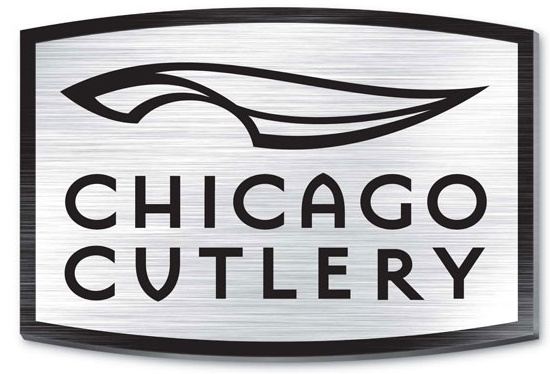 I'm finishing up my campaign as a brand ambassador for Chicago Cutlery and wanted to tell you how I liked the knives. I started off the campaign very afraid of the knives. It didn't help that I cut myself early on with them. (Remember, they are good quality, SHARP, knives. I wouldn't have it any other way.) I practiced and practiced with them at home and then offered you a giveaway. Finally I went to a knife skills class where I learned to chop and julienne vegetables. I've been promising you that I'd show you a video on how to dice onions. Don't worry, the video is below. 🙂
I was given a Chicago Cutlery DesignPro 8-inch Chef Knife, 5-inch Partoku Knife, 5-inch Scalloped Utility Knife, and a 3.25-inch Paring knife to try out. My absolute favorite knife, the knife I'm most comfortable with, is the Partoku knife. It fits my hand perfectly and it doesn't feel too long when I'm trying to cut things. Sometimes the Chef knife is too long for my counter and I'm bumping it into things while cutting. I also love the paring knife! I'm still not quite sure what the utility knife is to be used for. Would anyone like to help me out with that one? I'm about to show you the video, but before I do… Please visit Chicago Cutlery on their website, Facebook, and you can purchase them on Amazon. If you're scared to use your knives, I highly recommend taking a class! Also, if you're having a problem cutting things, your knife is dull, replace it. Two more bits of advice about cutting onions, since that's what you'll see me do below:
Cut your onion while cold- it does not make your eyes water
If you are seeing a lot of liquid under your onions when you cut, it's because you're not cutting the onions, you're smashing them. Your knife is dull, replace it. (That's another reason your eyes water.)
 Note: I wrote this review while participating in a Brand Ambassador Campaign by Mom Central Consulting on behalf of Chicago Cutlery and received products to facilitate my post and a promotional item to thank me for taking the time to participate. All opinions are my own.